BENGALURU: Pubs in Benglauru are opening up, literally. Rooftop settings and expansive garden spaces are redefining the lounging experience.
Event management professional Naman Shetty and his friends, who'd watch football and cricket matches guzzling beer in crowded and dimly lit pubs, have now found an alternative in open rooftop pubs with extensive garden spaces. They say it's a relief from the stuffy watering holes that'd often get on their nerves.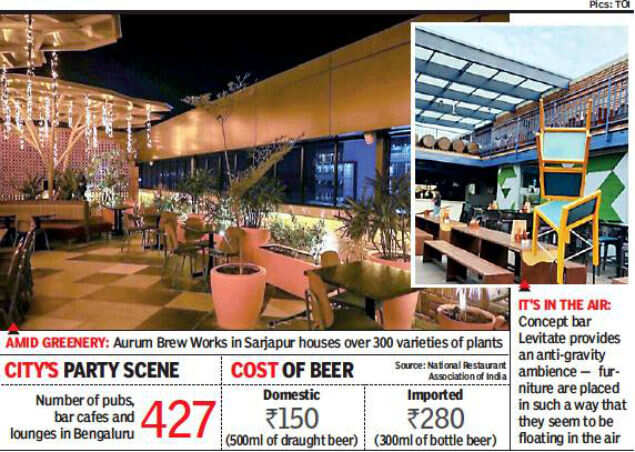 "Open-to-sky pubs make us feel more relaxed and fresh. I remember the days when we'd go to Pecos to watch football matches on TV, but today these large pubs make us feel connected to the matches on the large screen," says Shetty. His favourite haunt nowadays is green-canopied Byg Brewski Brewing Company in Hennur.
IT professional Sonal M enjoys her drink the most when she is at Uru in JP Nagar, where she can even put her feet up and read a book.
At Uru — a 42,000 sq ft brew park — one can do yoga, read a book, prepare barbeques and make their own gin cocktails. "Sitting in closed-door pubs is boring. Everybody wants to step out and catch some fresh air," say Kuncheria Marattkulam and Karthik Chandrashekaran, founders of Uru, which is divided into four zones — barbeque quadrant, cafeteria, botanical gin garden and the brewing area along with the walking path surrounding it.
"Innovation has been possible because of the real estate… rents are cheaper in Benglauru and there are newer areas springing up. Also, it's a lot to do with the city's weather. Mumbai, Delhi, and Chennai have horrible weather," says Manu Chandra, Bengaluru chapter head, National Restaurant Association of India.
Concept bar Levitate provides a unique anti-gravity ambience. At this JP Nagar pub, barrels and chairs are placed in such a way that they seem to be floating in the air. "Microbreweries across the city are the same, they get mundane. Rooftop pubs make you feel fresh and keep you alive. To add to the concept of anti-gravity, the food is also served accordingly." said Girish SV, owner of Levitate.
Pubs with green canopies are also an emerging concept. Byg Brewski Brewing Company is home to mango trees, which have been retained from the original land parcel. The kitchen uses mangoes to create special menus, says Pravesh Pandey, directors of operations, Byg Brewski Brewing Company.
Its sub-branch in Sarjapur has creepers and herbs growing inside the pub, which make it to their kitchen.
Aurum Brewpub in Sarjapur, with a seating capacity of 550 has over 300 varieties of plants. Sumit Gulati, founder of Aurum Brew, says they have also fashioned trees out of metal to give people a feeling of being one with nature.