NEW DELHI: Delhi Development Authority is set to create a "smart hub" in southwest Delhi's Dwarka, which will not only incorporate features of a smart city, albeit on a smaller scale, but also promises to become the ultimate hangout zone of the capital.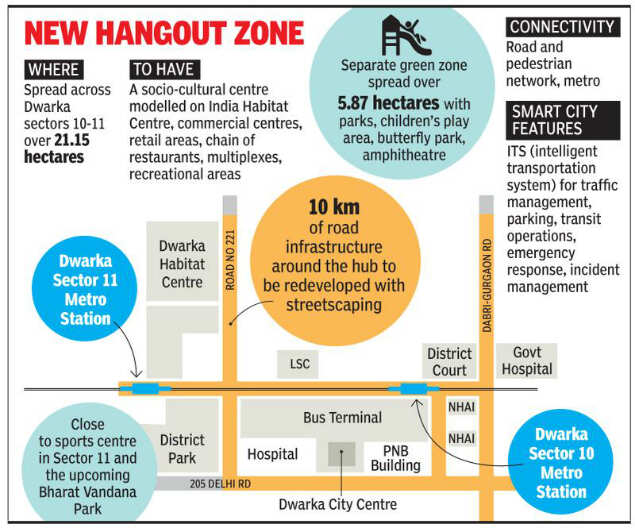 The smart hub — spread over 21.15 hectares, spanning sectors 10 and 11 of Dwarka — is being created with a futuristic vision, but won't have any residential component, an senior DDA official said. The entire area will be developed as a commercial and recreational zone, with the focal point being a large socio-cultural centre modelled on south Delhi's India Habitat Centre.
"The smart hub will have commercial centres and retail areas, apart from a chain of restaurants offering casual eating to fine-dining options. Apart from this, there will be multiplexes to make the smart hub a complete recreation zone," the official said. "The commercial plots will be leased out, along with the retail areas and restaurants," he added. Alongside the commercial area, DDA will develop a "recreational green area" — spread over 5.8 hectares — which will have an amphitheatre, a small butterfly park, a herbal garden, children's play area and splash pools.
The focal point of the smart hub, however, will be the socio-cultural centre, likely to be named Dwarka Habitat Centre. "The centre will have a large auditorium, apart from smaller recreational areas. It will be developed into a vibrant cultural hub for world-class performances," the official said. The centre will also host conferences and seminars. "At present, such centres are only concentrated around south Delhi," he said.
Two contiguous plots of 10.15 hectares and 11 hectares are proposed to be developed at sectors 10 and 11 of Dwarka with uses designated as commercial and public/semi-public (socio-cultural) as per the zonal development plan. This is where the smart hub will come up. Additionally, DDA will redevelop a green area spread over 5.8 hectare at sector 11 as a recreational green zone. The land-owning agency will improve the road infrastructure and also conduct streetscaping till up to 10km of the hub. This will include areas under the Delhi Metro viaduct.
"The proposed smart hub is strategically located along Metro's Blue Line and the pedestrian pathways and will connect the two, apart from providing access to non-motorised vehicles," the official said. Also in proximity are the sports centre at sector 11 and the upcoming Bharat Vandana Park.