Thick pancakes dripping with chocolate sauce, topped with fresh strawberries, a scoop or two of ice cream, another squirt of whipped cream, and if these aren't enough, how about some more syrup to appease your sugar craving? Or how about an equally elaborate freakshake? While earlier, you may have ordered sweet treats as accompaniments with your main meal, now, we bet these humongous preparations are all you will be able to eat. These sweet treats, which are topped with everything from cookies to doughnuts, are no mean feat for one person to conquer. So, it comes as no surprise that more and more people are replacing their main course with these desserts, and often plan outings just to stuff themselves with these king-size delicacies, which will not only leave you satiated, but also give you Instagram-worthy pictures.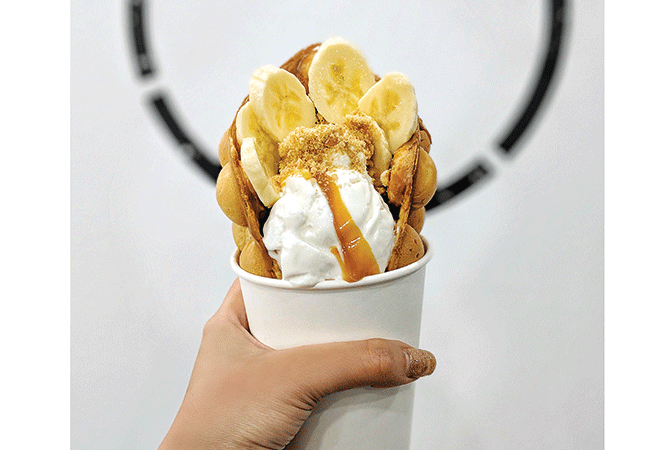 A massive waffle is rolled around a scoop of ice cream topped with bananas and caramel
Humble desserts replaced by ostentatious sweet treats
A few years ago, a milkshake to most of us was nothing more than a humble combination of milk, ice cream and some added flavour, maybe some fruit or nuts if you went to a fancy place. Today, however, the massively popular freakshakes – also called jumbo shakes or monster shakes – are anything but humble! These monstrous preparations are topped with the basics like fruits, nuts and flavours, and the monster element comes in the form of toppings like cupcakes, cookies, brownies and doughnuts too! When these first made an appearance on the social media posts of food bloggers, many of us did find them outrageously messy, but over time, these went from being 'too much' to 'worth a try'. It appears that anything, be it savoury or sweet, that is massively loaded is a sure hit on Instagram, making it a hit in reality too. Insta-worthy pictures are one reason for their popularity among youngsters, and chefs today cater to this demand. Disha Saxena, owner of cafe Wanderlust at DLF Galleria in Gurgaon, says, "One really needs to up the game when they are dealing with jumbo shakes or pancakes. We introduced Thunderous shakes last year, and since then, the revenue of our restaurant has gone up. I would like to credit that to not just the preparation of the Thunderous Shake, but also its presentation. We keep working on it to make it look more presentable. On an average, 40% of our customers walk in to just have that shake or our pancakes for lunch or dinner."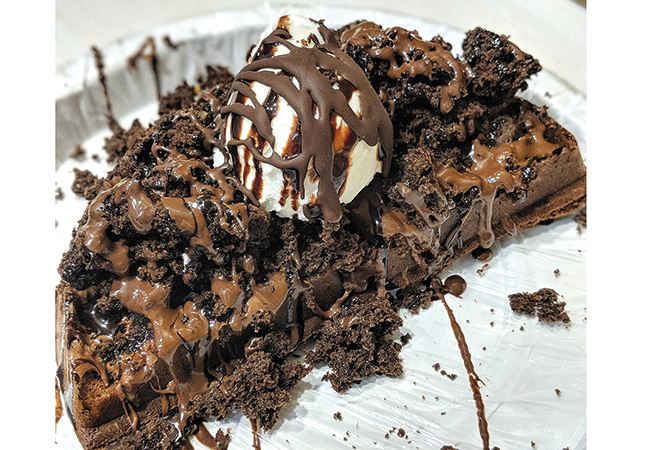 Chocolate Explosion: Belgian chocolate waffles
Insta-worthiness drives the sales of these delights
Gaurav Gosain, owner of Shake Eat Up Café, that specializes in monster shakes, at Netaji Subhash Place and Hudson Lane, says, "When we were working on our freakshakes, we were very particular that they should look so tempting that the first thing a person does after seeing these is click a picture, before digging into it. We also realized that size plays an important role in the presentation. Customers don't order anything else if they are ordering one of these."
Food bloggers agree that freakshakes, pancakes and waffles owe their popularity to Instagram, adding that posting pictures of these foods is a foolproof formula to get traction to their social media profiles on a dull day. "I think loaded waffles, pancakes and freakshakes do amazingly well on Instagram, that's why food bloggers frequent places that serve these, because the burst of colours, loaded ingredients, stacked waffles and pancakes, with insane amount of sauces, nuts and ice creams, look great on your feed, and also brings amazing engagement to the post. Waffles, pancakes and freakshakes come in the category of most Instagrammable posts," says Delhi-based food blogger Sahiba Gursahaney.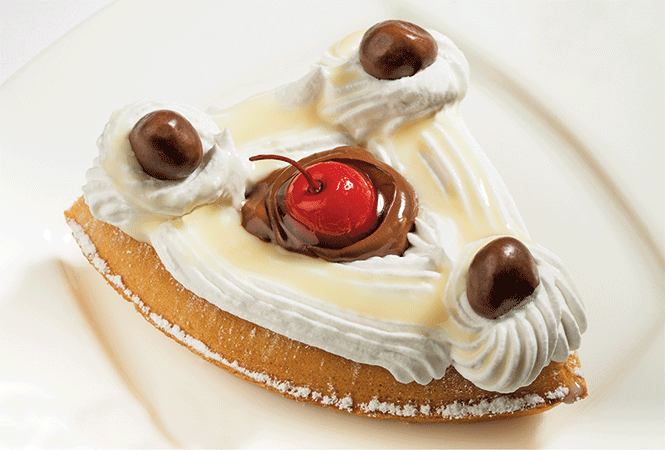 Waffles topped with cream, syrup, fruits, chocolates and sauces are sure to fill you up
Increased demand fuels rise in outlets
Thanks to the ever-increasing demand for pancakes, waffles and shakes, there has been a significant rise in the number of outlets specializing in them. The creative minds behind these outlets toil hard to come up with interesting variations of these desserts to stay ahead of competition, and also make their menus more appealing to customers, who now come for 'pancake date' or a 'waffle date' or walk in with a group of friends to binge on one big, fancy dessert, that won't cost them a bomb.
Sarita Ahuja, owner of Rose Café in Saket, which specializes in waffles, says, "There has been a major change in the way youngsters (read college students) like to spend money today. Earlier they would prefer going to small cafes, street joints and spend lesser. Then they would eat out more often, but not spend as much. But now, most college-goers want to visit new cafes with interesting menus and experience sometheing new. They may not head out as often, but when they do, they want to spend money on something special. Most of our customers, who only have the waffles or pancakes, are in the age bracket of 16-25 years. The good thing about waffles and pancakes is that there is always scope for customisation, and the huge portions are good enough to be shared between two or three people."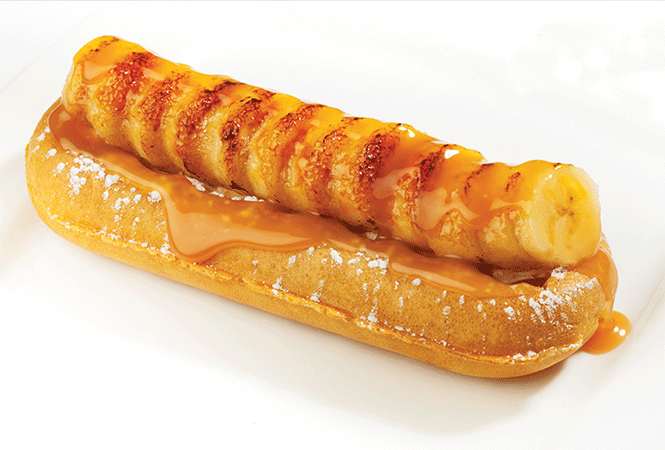 A waffle topped with caramel sauce and bananas
This isn't exclusive to youngsters, families are also coming out to have outings at these restaurants that specialise in waffles, pancakes and shakes. Gurpreet Singh, VP of IHOP India, says, "Our customers are not just youngsters, but also kids who want to try pancakes and waffles with chocolate sauce, blueberry or different, sweet, flavoured syrups. We now make sure that we have enough variety for parents, too, who accompany their kids. Which is why these waffle or pancake joints are a good option for family hang outs, too." IHOP has outlets at Cyber Hub in Gurgaon and Saket in Delhi.
These outlets are also working on their menus to introduce more varieties in waffles, pancakes and shakes to keep up with the growing popularity. "We are also working on low-cal versions of these desserts as the only thing that stops some people from trying them is that they are not for the health conscious. We have sugar-free and gluten-free versions of our waffles," says Amay Ansari, founder and owner of Drool Waffles, a chain with outlets at Nehru Place and Saket.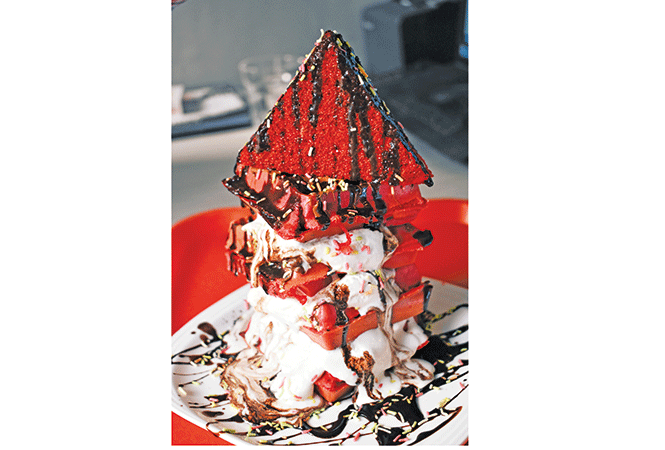 Red velvet waffles stacked with ice cream, chocolate sauce and a slice of cake