NEW DELHI: Global demand for Indian flavours and scope of higher profitability are urging more Indian food startups to gun for foreign shores. After Gurgaon-based startup Burger Singh started operations in the UK, it's the turn of two more startups specialising in Indian food to expand overseas. Inspired by Mumbai-style street food, Vada Pow, led by Indian entrepreneur Naveen Bachani, has started selling Maharashtra's native dish vada pav in over 195 retail stores in Ireland. Funded by Enterprise Ireland, one of Europe's leading venture capital funds, Vada Pow is currently planning to enter Germany, the UK and Sweden.
"The vegan craze is very strong in Europe and our products, which are 100% vegan, resonate with the movement," said Bachani, who has started selling his ready-to-eat products through German supermarket chain Lidl.
Another food startup Charcoal Eats, which currently operates around 30 outlets selling biryani and kebabs across the country, has firmed up plans to open its doors in Bahrain and the UK. "Bahrain has European-style eating joints and several local ones too, but not many specialise in India-style cuisine like we do," said Anurag Mehrotra, founder of the Mumbai-based startup.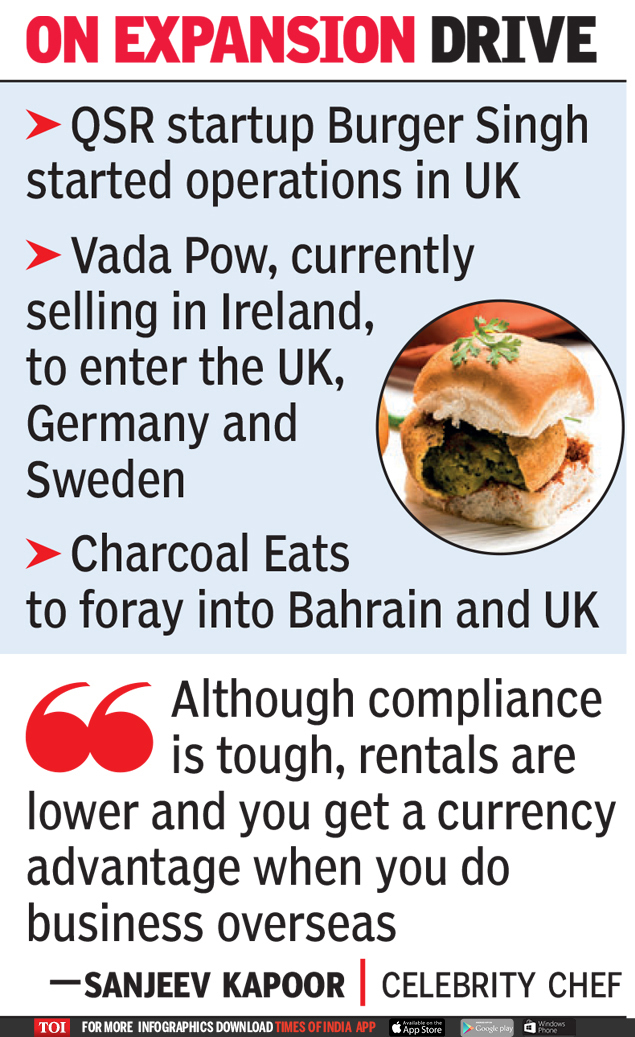 In May, Charcoal Eats raised Rs 5 crore in a pre-series-A round from investors that included senior Mondelez executive Rajesh Ramanathan, director at Asoka Capital, Kush Verma, and former Rothschild India MD Sanjay Bhandarkar.
When asked about the sudden rush of food entrepreneurs expanding overseas, lower cost of real estate, higher returns on investment and high global demand for Indian cuisine are some of the reasons cited by them. For instance, several Indian restaurant chains — including Lite Bite Foods, Jiggs and Zorawar Kalra's Massive Restaurants and RJ Corp's Devyani International — are also on an expansion spree in locations such as Singapore, London and Dubai.
"You obviously get a currency advantage when you do business overseas," said celebrity chef Sanjeev Kapoor, who operates a chain of restaurant brands under SK Restaurants. Several of his restaurants are located overseas.