KOLKATA: Beer will pinch your pocket less at restaurants from next week.
A price slash of four major brands has prompted restaurants to announce a reduction of Rs 10, which is sure to be cheered by tipplers who felt dejected after the sharp price rise last year. Consumption of beer has slumped by 20%-25% across Kolkata restaurants since March 2018, when prices went up by almost 35%. The beer price drop could also help to revive footfall across Kolkata restaurants that have seen a low turnout since January, believes the Hotel and Restaurants' Association of Eastern India (HRAEI).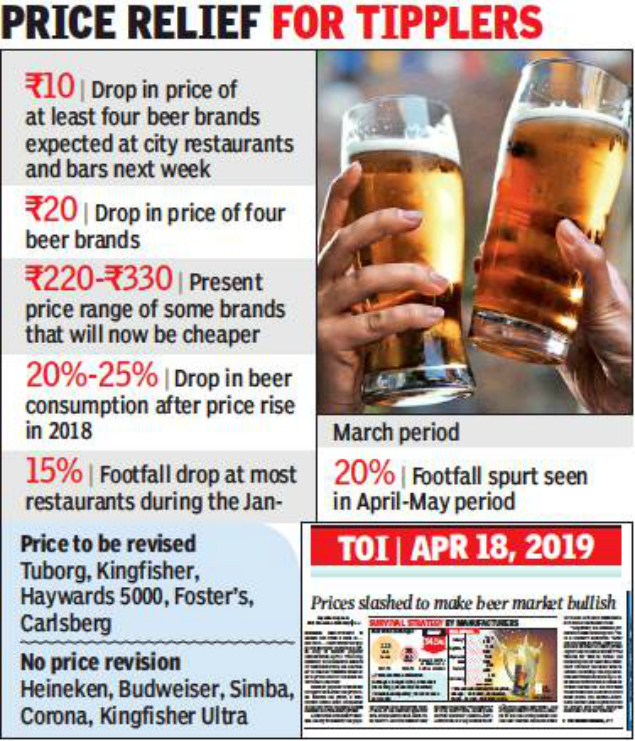 At least four beer brands turned cheaper by Rs 20 on April 1 and restaurants are ready to pass on the benefit to consumers. "We saw an unprecedented drop in beer sale after the prices went up last year. Beer-drinkers had moved to low-end whisky and rum. But this price drop has come at the right time and it will make tipplers troop back to beer. This summer, we expect the sale to be back to what it was prior to 2018," said Sudesh Poddar, chairman of HRAEI administrative committee and the owner of Song-Hay restaurant in central Kolkata. He added that HRAEI has issued an advisory to all its member restaurants asking them to slash beer prices.
Tuborg, Carlsberg and Kingfisher are among the brands that will now be cheaper. At present, they are priced between Rs 220 and Rs 330 at city restaurants. Fresh stocks with the new price labels have started arriving but restaurants are yet to start serving them. "We have just received the new bottles and are mulling a price revision. It could be a little cumbersome, though, since several other brands have not changed their prices. But we welcome the price drop for this will surely boost the sale of beer. It will help since most visitors prefer beer over other forms of alcohol in summer," said Sanjay Khullar, owner of Amber.
Peter Cat and Mocambo on Park Street haven't yet decided on a price drop. "We will take a decision soon. But this is good news since this is the season when people prefer beer," said owner Nitin Kothari. The owner of another restaurant-chain said fresh stocks had arrived and they will reduce prices from Sunday. "It will be a marginal reduction but will boost beer sales. A price in alcoholic beverages is rare and we must pass on the benefit to our patrons," he said.
For a section of beer-drinkers, though, the price drop will make no difference. Premium brands like Heineken, Budweiser and Corona haven't announced a price cut. "But premium brand customers were not affected much by the price rise last year. They remained loyal to Budweiser and Heineken. Those who preferred Tuborg or Carlsberg are more price-sensitive and had shifted to other forms of alcohol. We expect them to return to beer drinking," said Poddar.