Not very long ago, hanging out in Noida meant going to Sector 18 and choosing among the eateries in the market or malls in the vicinity. But with so many corporate offices and MNCs coming up in various sectors of the city, including 62-63, 126 and 135, travelling till Sector 18 after work means getting stuck in peak-hour traffic. So Noida's officegoers have found alternatives, which are in close proximity, where they can hang out with friends and colleagues after work.
Around the corporate firms in Sectors 62 and 63, there are several restaurants and food joints. And now, they also have a few fine-dining restaurants to choose from. Those working in the Noida Special Economic Zone (NSEZ) would earlier rely on the one or two food joints in the vicinity. But now, a couple of new restaurants have opened in Sector 104, which is fast emerging as one of the go-to places for professionals working in NSEZ. Corporate professionals working along the Noida-Greater Noida Expressway have largely been dependent on the roadside food stalls, vendors and food trucks. However, in the past one year, new restaurants have started coming up in the area, with many majorly catering to the corporate crowd. Apart from the proximity, the restaurants also offer corporate discounts, making them popular among officegoers for lunch breaks and Friday-night parties.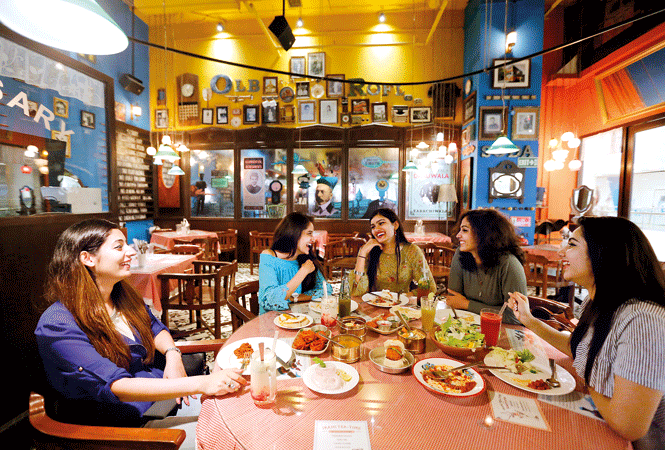 Earlier, Sec 18, with a host of eateries and cafes in the market and malls, was the only option where officegoers could head to after work'Sector 18 market was the only option for hanging out till a few months ago'
For those working along the Noida-Greater Noida Expressway, lack of better options near their office made them all come down to Sector 18. But now, several restaurants have opened in the vicinity, where they can go after work without getting stuck in traffic. "When I had joined this place four years ago, the only option we had for team meetings or outings was Sector 18. Though it is just 15 minutes away from our office, it would take at least 45 minutes to reach there in the evening because of peak-hour rush," says Dilip Dwivedi, who works with HCL in Sector 126, adding, "New cafes have opened around our office where we go during lunch breaks or even after office. Their close proximity and chilled-out ambience make them a preferred choice for us."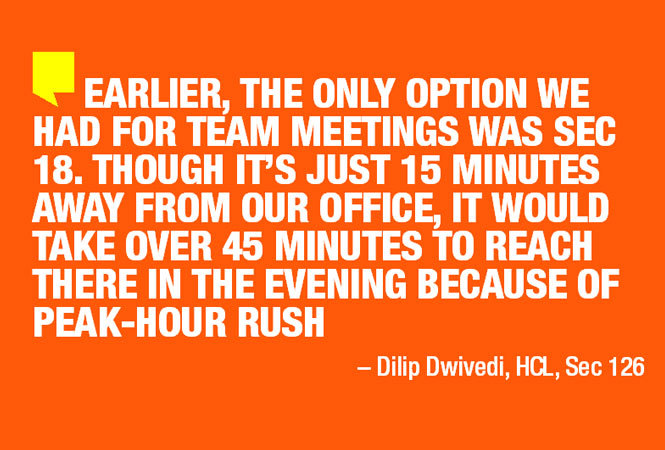 Deepanshu Ahuja, who works at Cadence Designs Systems in NSEZ, says, "We have only one food joint near the office where we go for lunch as it is budget-friendly. Earlier, when we had to go for a corporate outing, we had to go to Sector 18, which is at least half an hour away from our office, but now some fine-dining places have recently opened in Sector 104 which has solved the problem for us," says Ahuja, a resident of Sector 76.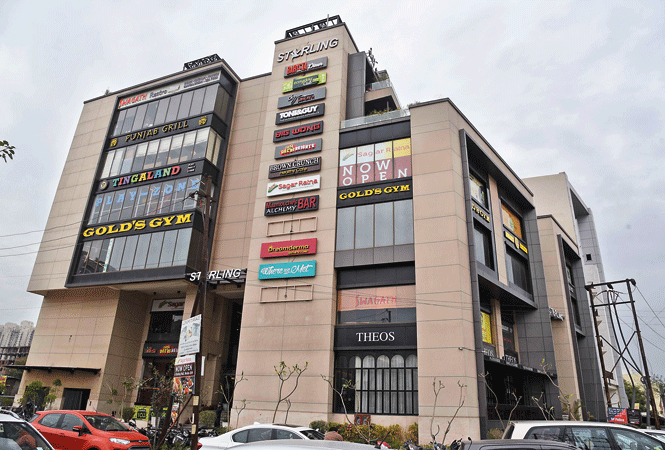 Restaurants in Sectors 126 & 135 popular choices for corporate officials in the vicinity
Abhishek Chauhan, owner of the restaurant Adda 126 in Sector 126, says that the area didn't have any cafes or restaurants, which prompted him to set up one. "I have a lot of friends working in this sector. And all of them had one complaint – there wasn't any decent restaurant to go to. It has been about three months since I opened the restaurant in this sector and almost 90% of our customers are from the corporate firms located here," says Chauhan.
The availability of a large commercial space near offices is what prompted Sharad Madan, owner of the Imperfecto chain of restaurants, to set up his third restaurant in Noida in Sector 135. "We have set up Imperfecto Rainbow in Sector 135. We got a good deal on the space. Since there is no good party place in the area, we decided to start our next venture here," says Sharad.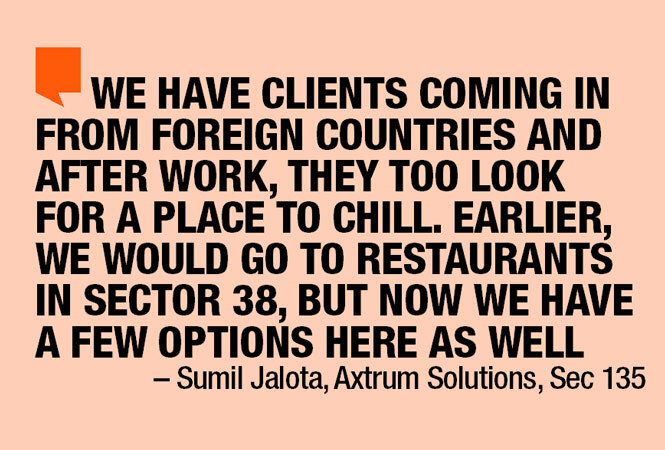 Sumil Jalota, who works in Axtrum Solutions in Sector 135, says that it was high time a party place opened near their office. "Almost every month, we have clients coming in from foreign countries and after work, they too look for a place to chill. Earlier, we would go to restaurants in Sector 38, but now we have a few options here as well," says Jalota, a resident of Greater Noida West.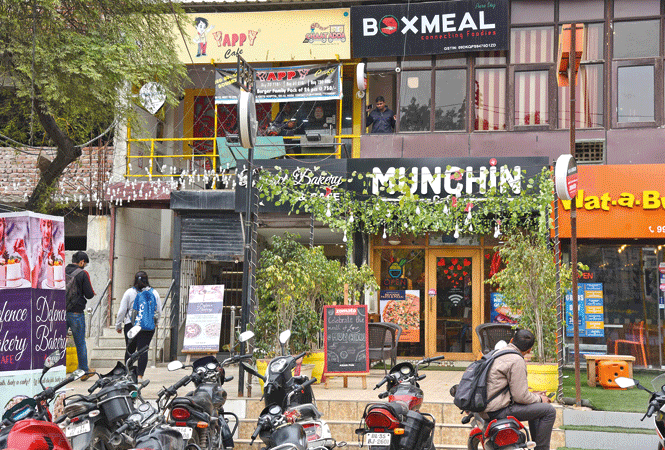 Required – plush places for meetings and to impress clients
Having a good place near office also helps corporate professionals leave a good impression on their clients. "Sometimes, we need to take senior clients out for lunch and it helps if the restaurants are close by. In such cases, we prefer to go to Yellow Chilli since it gives a fine-dining experience and is also located right across my office," says Deeksha Sandhu, who works at a consultancy firm in Sector 62.
According to Gopal Kumar, Manager at Yellow Chilli in Sector 63, the place is never used for hosting parties. "We have an image to maintain. If we host corporate parties here, it may get overcrowded, which won't be good for our reputation of a fine-dining restaurant. However, we do see a number of office meetings happening here regularly," Gopal says.
Citrus Café, located in Sandal Suites in Sector 135, sees a large corporate crowd. "Seventy per cent of the customers visiting Citrus Cafe are from the corporate firms around this area. Client meetings are also frequently held here," says Akriti Arora, Head – Marketing and PR, Carnation Hotels.
'Corporate discounts a major draw for Noida's officegoers'
Eating out daily may pinch the pockets of working professionals, but with corporate discounts and packages, restaurants located near offices know how to attract officegoers. "Not just for parties, but we have good deals for lunch as well. For corporate professionals, we have a special Rs 99 menu during lunch hours. This way they can have lunch at a comfortable, air-conditioned space at reasonable prices. I saw a number of professionals eating out at the food stalls by the roadside, so we decided to curate a budget-friendly menu," adds Sharad.
Corporate packages for parties and events are also a deciding factor for officegoers. A couple of restaurants in Sector 63 have become a favourite with professionals to host an office party. "For the past four years, we have been hosting our corporate party in Sector 63's Spize restaurant because of their attractive discounts. Be it farewell parties or success bashes, it is our go-to place for any kind of get-together," says Gurpreet Kohli, who works at an IT firm in Sector 62.
James Matthew, assistant manager at Pind Balluchi, Sector 63, says, "Being a fine-dining restaurant, it is not necessary that we get customers coming in for lunch every day. Hence, offering discounts for corporate parties helps us make loyal customers."