After almost four years of procedural delays, it seems like microbreweries will finally be a reality in Delhi. The long-awaited notice from the Ministry of Housing and Urban Affairs came on Friday and it was a huge relief to those restaurateurs in Delhi who had already invested in a microbrewery plant in 2015. In its excise policy for 2015-16, the Delhi government had announced that it will allow hotels and restaurants to have microbreweries in their premises. The announcement came in June 2015. But microbreweries were under the prohibited category of "liquor-making plants" in Delhi Development Authority's (DDA) Master Plan for Delhi 2021. In 2017, Lieutenant Governor Anil Baijal approved that microbreweries be moved out of the prohibited category. In September last year, the DDA cleared the proposal to facilitate the setting up of microbreweries and the proposal was sent to the Union Ministry of Housing and Urban Affairs for notification. The Excise Department was waiting for the notification of the changes in the Master Plan to frame a policy to allow the setting up of microbreweries in Delhi. But this last hurdle in the setting up of microbreweries was cleared on Friday as the Ministry of Housing and Urban Affairs issued a notice about the change in the Master Plan. Now, restaurateurs can apply for L-11 licence, which is required from the Excise Department, for setting up a microbrewery in Delhi.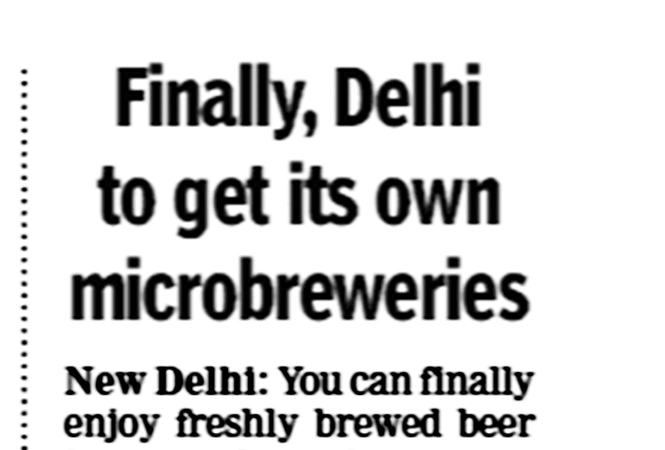 'Microbreweries will bring more than revenue'
Since the last many years, Gurgaon has had a privilege of being the only place in NCR serving freshly brewed beer. The business of microbreweries has been thriving in Gurgaon as large number of people drive down from Delhi to Gurgaon to have crafted beer. But with all clearances in place, restaurateurs are hopeful that microbreweries will be a big revenue generator in Delhi. In a statement, Rahul Singh, president, National Restaurant Association of India (NRAI), said, "Delhi's neighbouring state Haryana has seen a proliferation of microbreweries as consumers want fresh crafted beers. Recently, UP has passed the microbrewery policy too. Delhi was losing out on revenues as well as consumers to Gurgaon majorly. This much-awaited clearance brings the spotlight Delhi deserves and will promote tourism and experiential drinking for Delhiites."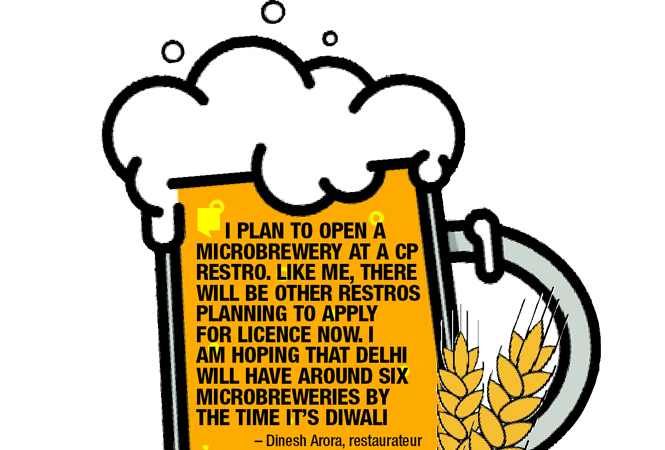 And if one thought that the news of microbreweries soon coming up in Delhi will leave Gurgaon restaurateurs worried, that's not exactly so. "Gurgaon started the culture of microbreweries and now the market in Gurgaon has expanded and grown so much that we don't think business will suffer much. In fact, microbreweries coming up in Delhi is good news for those who already have microbreweries in Gurgaon, they can now think of expanding business. Moreover, I feel that Delhi needs microbreweries to bring back some buzz in nightlife, which has been stagnant for some years now," says Manish Sharma, co-owner of The Drunken Botanist at Cyber Hub and Molecule Air Bar at Sector 29 in Gurgaon. He informs that they are soon coming up with Molecule Air Bar in Green Park in Delhi and have set up a microbrewery plant in anticipation of clearances from different authorities. "Microbreweries have already proved to be a successful business model and we were hoping that this year, Delhi will have its own microbrewery. So we have invested in it already," adds Manish.
Another Delhi-based restaurateur, who has been awaiting the final nod from authorities for setting up a microbrewery, points out that the Delhi market is five times bigger than what Gurgaon is, so one can be sure of the fact that microbreweries will mean big business and also cater to a large number of tourists in the city.

'Five-six operational microbreweries by Diwali'
Ministry of Beer in Connaught Place was one of the first restaurants that applied for a licence to set up a microbrewery in Delhi and didn't give up, despite procedural delays, over the years. Some restaurateurs decided to move their microbrewery plant to other cities and not take risks, but Ministry of Beer has been pursuing their application and it is expected that they will be the first ones to get the microbrewery licence, which has already been set up. Delhi's first microbrewery probably come up in Connaught Place. Next in line are restaurateurs like Dinesh Arora, who already have the infrastructure and investment plan in place for setting up a microbrewery in their premises. "Now that we have a notice from the Ministry of Housing and Urban Affairs, I will apply for the licence in March and it might take two-three months in setting up the plant and completing other paperwork to get the licence. I have plans to open a microbrewery at a restaurant in CP, the area has ample space and is popular among people from different age groups. Like me, there will surely be other restaurateurs planning to apply for licence now. I am hoping that Delhi will have around six microbreweries by Diwali," says Dinesh.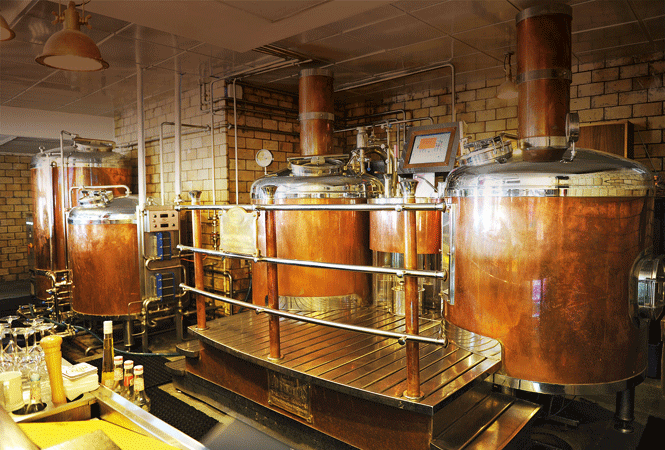 There is no denying that microbreweries are a profitable investment for restaurateurs, but given that it took authorities four years to give all clearances to microbreweries in Delhi, some restaurateurs do not want to take chances until the first microbrewery is operational. "I definitely want to set up microbreweries in my restaurants at CP and Aerocity, but I won't go ahead until the first microbrewery becomes operational. There is still one small hurdle we need to clear. There's a recent notification by the Food Safety and Standards Authority of India (FSSAI) that restricts the yeast count in beer, a primary factor to its appeal. The stipulated level is much lower than that found in crafted beer. We are going to have a meeting with the FSSAI in this regard and we are hoping that we can get some clarity regarding this," informs restaurateur Priyank Sukhija.
Ashwini Choudhary from Soi 7 Pub and Brewery at Cyber Hub in Gurgaon had set up a microbrewery plant in 2015 in Delhi soon after the announcement was made by the Delhi government. But he decided to move the plant to a different city after he realised the implementation of the plan might take time in Delhi. He doesn't want to invest again until there are microbreweries operational in Delhi. "I will just wait and watch right now. I will not take any step any time soon," he says.