BENGALURU: Over the past two years quality eateries and pubs have been shutting down in the city. After The Smoke Co, Bflat Bar and Restaurant and The Humming Tree, the latest is Monkey Bar, Indiranagar, which will wind up on November 24.
"Monkey Bar had become an iconic brand. But the constant over-policing means you cannot run a business no matter how compliant you are," says Manu Chandra, its chef-partner and the Bengaluru Chapter Head, National Restaurant Association of India (NRAI). Excerpts from an interview: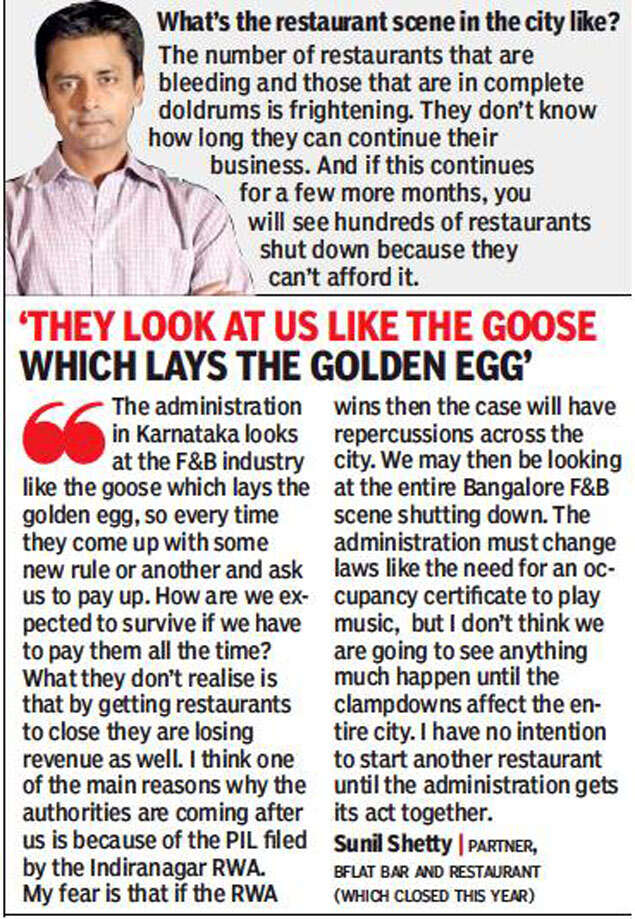 What ails the restaurant business in Bengaluru?
Bengaluru has gone towards the worst in the last two years. Somewhere along the line some agendas were at play, and you have legislation and legalities and paperwork constantly thrown at you. The authorities started digging through all kinds of rules and made knee-jerk reactions. When the Mumbai fire incident happened, for instance, they suddenly wanted every restaurant in Bengaluru to have a no objection certificate (NOC) from the fire department. The requirements are so stringent that you essentially have to break down an entire building and build it again to bring a fire NOC into play. And then all kinds of clampdown started. Forget ease of business, doing business itself became impossible. Then, the Public Entertainment License (PEL) issue came into play. You suddenly needed an occupancy certificate, which 92% of Bengaluru's buildings don't have. Today, if you don't have an occupancy certificate, you can't apply for a PEL, which means you can't play music. We were suffering tremendous business losses.
Will more restaurants, pubs and bars shut shop in future?
I think the government wants it this way. The way they behave with us, they are neither supportive nor helpful. They don't try to help us solve the issue in whatever way they can. They are just throwing us from one department to another.