MUMBAI: When it comes to dining out, Indians aren't waiting for special events. They increasingly consume non-home cooked food to satisfy their cravings or tuck in to a good meal. A survey by the National Restaurant Association of India (NRAI) shows each month, consumers are eating out nearly seven times a month.
Whether they dine in restaurants, grab food on the go or have a meal delivered, the national average is 6.6 times per month. This, however, is nowhere near the incidence in other Asian cultures such as Singapore (where they dine out 30 times a month), Bangkok (45) and Shanghai (60).
On an average, Delhiites dine out six times a month and can't get enough of the local stuff – more than half their outings are for North Indian grub. Mumbaikars, on the other hand, eat out 4.2 times, with many preferring to dig into south Indian dishes. In Bengaluru, strangely, south Indian did not rank very high, with many of the respondents choosing 'north Indian' and 'Biryani' over it.
But Mumbai has the largest of the organised food service markets pegged at nearly Rs 41,000 crore, followed by Delhi at Rs 31,132 crore and Bengaluru at Rs 20,014 crore.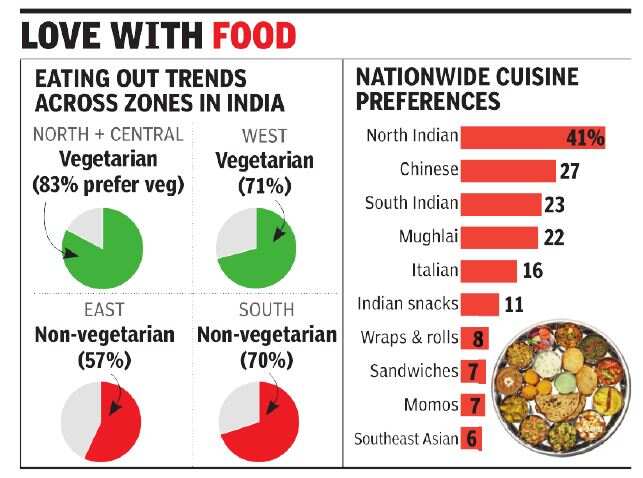 Across India, North Indian fare is, by far, the most popular (41% of the approximately 7,500 respondents called it their top favourite), followed by Chinese (27%), south Indian (23%), Mughlai (22%) and Italian (16%). Interestingly, in Mumbai, among international cuisines, 33% prefer Italian compared to 29% who like Chinese. People in the island city also prefers south Indian food over north Indian cuisines.
Another surprising finding of the survey is that people in Bengaluru prefer north Indian food (27%), followed by Biryani (11%) while south Indian foods are preferred by only 10% there. The survey highlights that an Indian household on an average spends Rs 2,500 per month on eating out. The city that spends the most is Bengaluru which splurges Rs 3,586 on its indulgences. For Mumbaikars, the figure is Rs 2,890 while it is Rs 1,381 for Delhi.
Anurag Katriar of deGustibus Hospitality, which runs Indigo Deli, said, "The Mumbai market could be further expanded if there is a policy for operating food trucks/food truck parks, archaic drinking permits are abolished and there is a change in limitation on operating hours."
According to the survey, dining out is the most popular choice followed by take-aways and home deliveries. Over 80% of the respondents said they would prefer affordable casual dining restaurants and quick service restaurants to eat out while cafes and desserts & ice-cream parlours are the most frequented.
People selected "good food quality" as the main reason influencing their choice of restaurant, followed by "always go there/order from them" and "like the taste of their dishes". Surprisingly, "Happy hours" as a reason for selecting a restaurant scored the least – barely 1% of respondents indicated it as a reason.
The survey also showed that as high as 83% preferred to eat out with a companion while 17% preferred to eat alone. Of those who would dine out with a companion, 37% said they preferred a friend to accompany them, while 30% preferred other family members and 27% preferred spouse or partner.
Sundays continue to be the most popular day for eating non-home cooked food, but weekday outings are increasing. This is because busier lifestyles are leading to less consumption of home cooked food. 42% of the respondents said they would prefer to eat out on a Sunday while for 13% Wednesday was the top choice and for 12% it was Saturday. As high as 41% preferred their dinner out while 22% preferred a lunch outside their home and 20% opted for a snack between meals for eating out.