From the reopening of just one restaurant a month back to over eight restaurants operational at present, Khan Market has shown first signs of recovery for restaurants after unlock. While the news of some restaurants in the area facing closure due to high rentals was surely disappointing for the restaurant industry, which is still largely surviving on deliveries and takeaways, business in the first month of opening has given some hope to restaurateurs in the area. Before Unlock 1.0, it was expected that more restaurants in the area might face closure because of the uncertainty of business in days to come. "But after the reopening of so many restaurants in the area and with the footfall steadily increasing over the weeks, some restaurateurs have managed to strike a deal with landlords and are not considering closing down completely, at least as of now," says a source.
'With 33% occupancy, we have managed to earn 25% revenue in the last one month and this is not bad at all'

All restaurants that decided to resume operations last month in Khan Market did open on a dismal note, but footfall improved from the second week. "To run a restaurant with 50% occupancy in a limited space at Khan Market is difficult, but most important was winning guests' confidence to eat out and for that, we had to make sure that we follow all safety measures and social distancing norms. Also, what has worked for us, I think, is the fact that we have an open kitchen and guests can see how their food is being prepared and limited staff is being allowed even in kitchens. If I would have to put it in numbers, I would say that with 33% occupancy, we are managing 25% revenue, which is not bad at all in the current situation," shares Payal Verma, Director, The Blue Door Café Pvt Ltd.
Varun Tuli, Managing Director, Yum Yum Cha, adds, "We are open for over one month now. We are pleased with the response in Khan Market. Of course, the footfall does not match our pre-lockdown numbers, it is around 30% of what it used to be. The number of people dining in has been reassuring for us and we have seen an increase in takeaway orders as well. Given the current scenario, we are hopeful that dining in will be on a slow and steady rise in the coming months. The footfall continues to grow because people are eager to restart their lives with care and caution, while maintaining social distancing and safety norms. Hygiene has been our priority. From the option of disposable cutlery, unlimited bottled water, abundant sanitiser to extremely strict hygiene and safety protocols for our staff and an open kitchen concept, we have gone an extra mile to make our guests feel safe about dining in. We're constantly trying to find more ways to reduce touchpoints for our guests. Our quick service and turnaround time for orders makes it easy for our guests to dine in and leave within 30 minutes."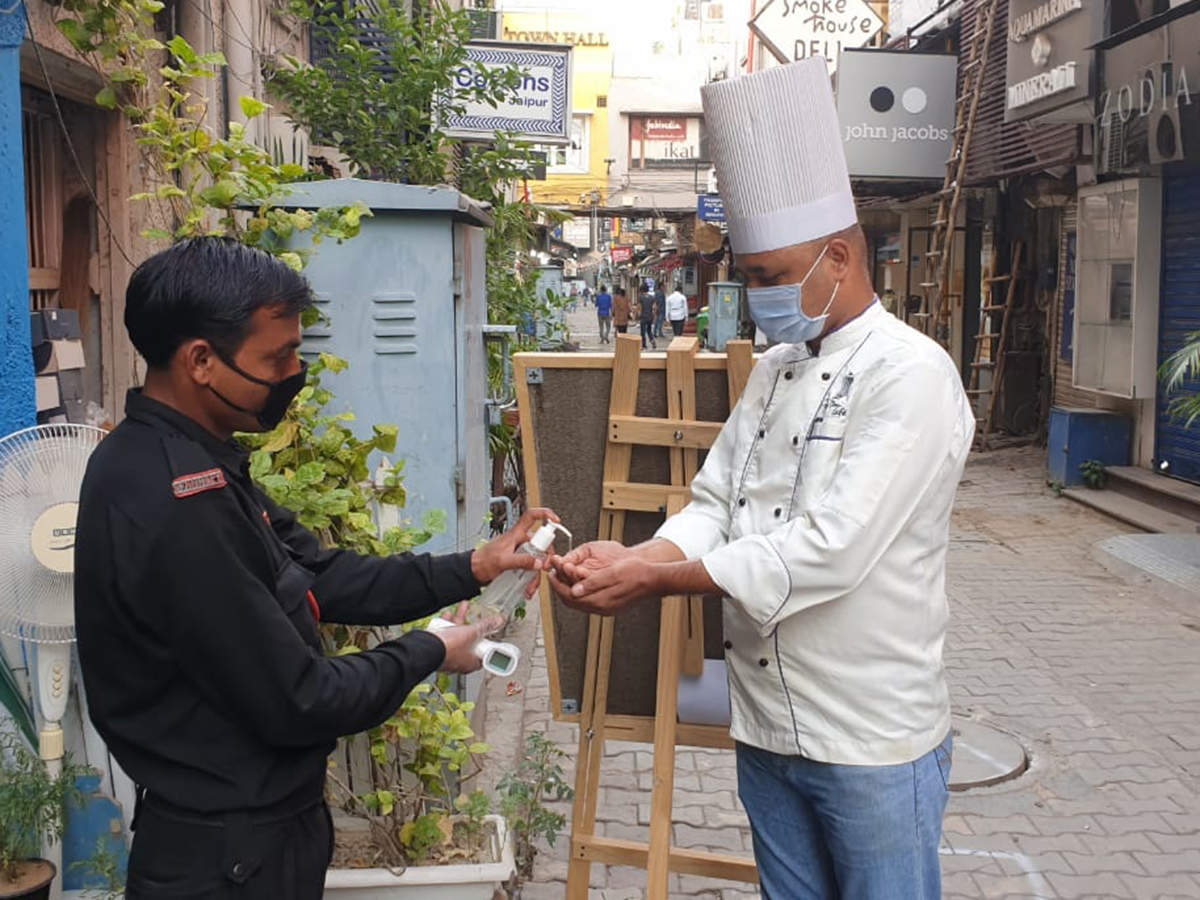 Restaurant owners say they have been following all safety measures and social distancing norms to win guests' confidence to eat out (photo for representational purposes only)

Being an open area, Khan Market has been witnessing a steady footfall

Many restaurant owners, who run multiple outlets across the city, have decided to first open their restaurant at Khan Market, not just because it is a prime location, but also because it is an open market area that has been witnessing a steady footfall. "Khan Market being an open-air market, it has always had its own appeal, irrespective of how many malls come up," says Tuli.

Most diners at eateries in Khan Market are those who have been frequent visitors at the market. "I would prefer shopping at Khan Market than going to any mall, even if they are open. I visited a restaurant here for the first time after lockdown and was skeptical. But I realised that restaurants are taking all necessary safety measures. I have returned here twice to dine in, in the last one month as there are not many good restaurants open at other open-air markets like Connaught Place," says Leena Mahadev, a Greater Kailash resident.

Business might improve once outdoor dining is allowed and restaurants are permitted to serve liquor

Restaurateurs say that business might improve in coming months if restaurants are permitted to offer outdoor dining to guests and once bars become operational. "In the pre-lockdown phase, we were getting around 200-300 guests per day, but now we are just receiving 25-30. If open air dining is allowed, we might get more guests as people might feel safer dining outdoors. Also, most revenue comes from liquor sales, so once we are permitted to serve liquor, there might be a greater possibility of getting business back on track," says Navneet Kalra, owner of Town Hall and other outlets in Khan Market.

Kabir Suri, Vice President, National Restaurant Association of India (NRAI), is set to open his three outlets in the coming weeks in Khan Market. "There has been an increase in footfall in Khan Market and business has witnessed a steady start, but we look forward to working with authorities and look for some relaxations when it comes to the ease of doing business," says Suri.