The monsoon season has finally arrived and the rains have descended to rescue us from the long sweltering heat. Soft drizzles, the pitter-patter of the falling drops, and the aroma of moist earth – there's something magical about the weather. We love the joy it brings, especially after the scorching heat. The breezy weather also brings our food cravings to the fore. It seems to be the perfect season to sit in a cozy cafe with your favourite book and enjoy some great food while listening to the melodious raindrops and watching everything spring to life. Here's a list of restaurants in Delhi to visit during the monsoon season and enjoy the weather along with some wonderful bites.
1. The PotBelly Rooftop Cafe
A perfect example of cultural diversity, this place offers every possible authentic Bihari dish. Liti Chokha, Mustard Fish and Prawn Curry are some of their most famous dishes amongst the regulars. Along with a soothing ethnic ambiance and wide glass windows, this dainty cafe will definitely treat you with comfort food.
Address:  116 C, Top Floor, Shahpur Jat
Time:  12:30–11PM
Contact: 011-41612048
Cost: INR 1000 for two (approx)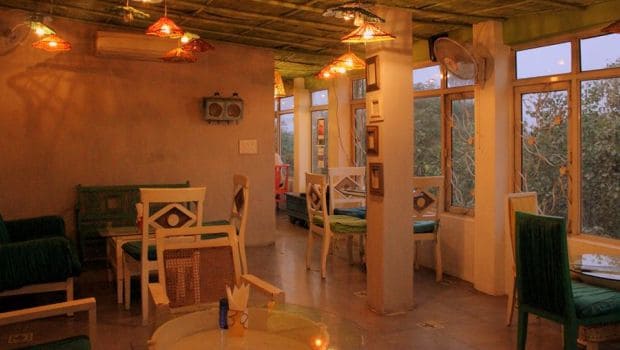 2. On the Waterfront, The Lodhi
This restaurant seems to rise out of water, justifying its name. The glass walls ensure a lovely view of the weather and the rain. The restaurant takes pride in its sushi and dim sum spread along with its lavish Sunday brunch buffet. The most distinguished feature which adds to its charm is the 'jetty', a glass room with a glass hallway going up to it, surrounded by water on all sides. Having a meal here on a rainy day will certainly add to the experience.
Address:  The Lodhi Hotel, Lodhi Road, New Delhi, Delhi 110003
Time :  12:30 PM to 3:50 PM, 7 PM to 11:30 PM
Contact: 011 4363 3411
Cost: INR 3,000 for two people (approx.)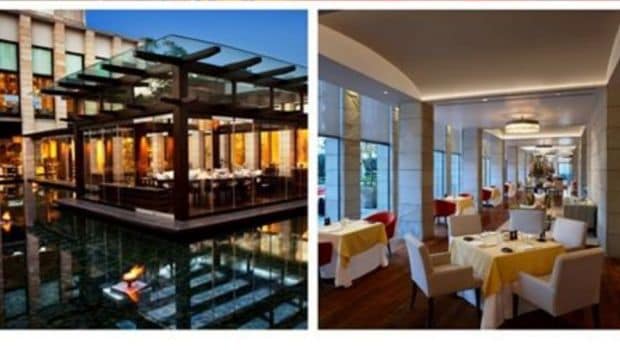 3. Sakley's Mountain Cafe
Sakley's Mountain Cafe is reminiscent of a classic English café decorated with vintage posters. Perfect for curling up on a rainy day, there are cozy corners and comfy sofas to plop into, along with a little book stand beside the armchairs. Resembling an old cottage in the hills with logs of wood as tables, this place lives up to its 'mountain cafe' tag.
Address: M-23, M Block Market, Greater Kailash (GK) 1, New Delhi
Time: 11 AM to 12:30 AM
Contact: 91  9873160659
Cost: INR 2000 for two (approx)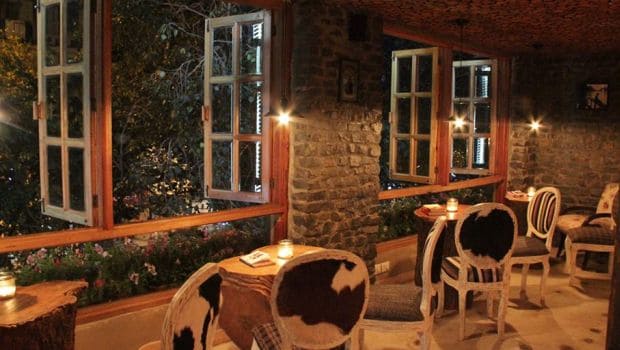 4. Olive Bar and Kitchen
This gorgeous hideaway with beautiful white walls, wrought iron chairs, and cobbled lanes punctuated by bougainvillea, offers classical French dishes with a modern European twist and also a diverse Mediterranean spread. The great vibe and their wood-fire pizzas fresh out of oven will make your rainy day experience truly memorable and enriching.
Address: One Style Mile, Haveli 6, Kalka Das Marg, Mehrauli, New Delhi
Time: 12:30 PM to 12:30 AM
Contact: 91 9810235472
Cost: INR 3800 for two (approx)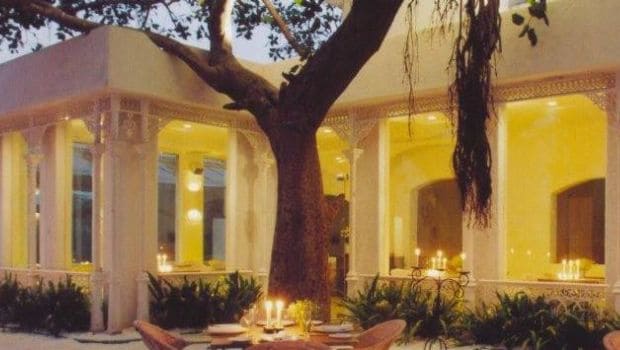 5. Hinglish – The Colonial Cafe
This colonial-styled cafe in West Delhi has gained popularity due to its fusion food. It's been completely revamped with the concept of a beach bar and is famous for its waffles, pancakes, omelets served in different styles. It offers a fun atmosphere with circular seating arrangement indoor as well as an outdoor sitting area separated by a glass partition. The cafe overlooks an open kitchen so you can watch while your food is being prepared.
Address: Ground Floor, Pacific Mall, Tagore Garden, New Delhi
Time: 11 AM to 12 Midnight
Contact:  011 30806676
Cost: INR 1600 for two (approx)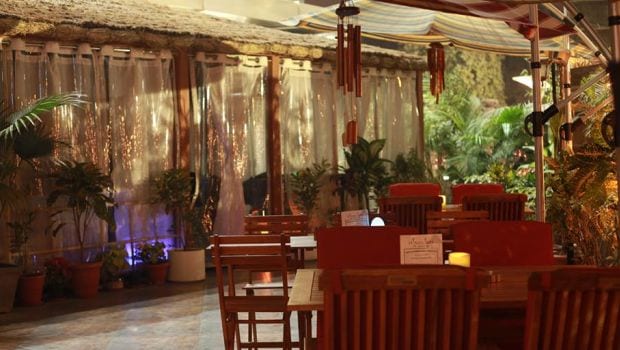 6. Triveni Terrace Cafe
Away from the hustle and bustle of the chaotic markets, this beautiful little café is situated in the Triveni Kala Centre at Mandi house and has a simplistic yet wonderful charm. Aesthetically pleasing, this place is a blend of art and nature. With sprawling green gardens, it is the perfect place to enjoy your favourite book while sipping some coffee. Their Palak Patta Chaat, Chicken Biryani and Beetroot Halwa are not to be missed.
Address: 205, Tan Sen Marg, Opposite FICCI Auditorium, Mandi House, New Delhi
Time: 10 AM to 7:30 PM
Contact:  +91 9971566904
Cost: INR 400 for two (approx)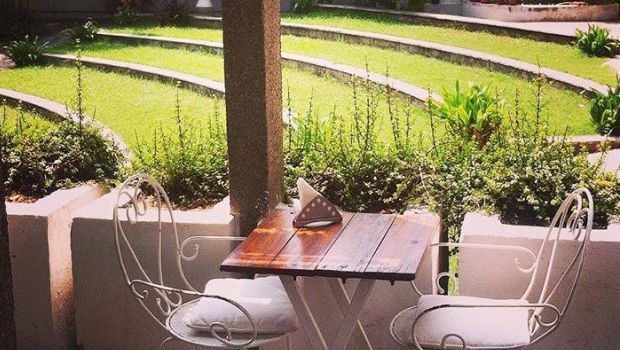 7. Tabula Beach Cafe
Reminding you of the Goan shacks, Tabula Beach Café has a picture perfect outdoor seating.With their beach – themed delicious food menu, it has some of the best options when it comes to seafood, all cooked to perfection. The menu offers Italian, Mexican, European, and American cuisines that are flavorful and freshly cooked. The classic bar and Coffee section in the menu acts as an an added offering. Enjoy great food, good music and a lovely ambience all under one roof on a cloudy day.
Address: The Village Restaurant Complex, Asiad Village, Khel Gaon Marg, New Delhi
Time: 12 NOON to 1 AM
Contact:  +91 9650250099
Cost: INR 1500 for two (approx)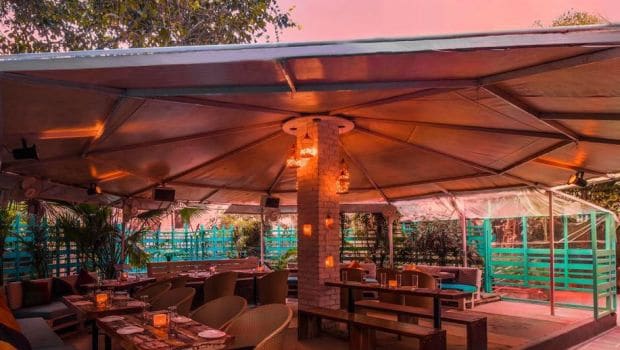 8. Social, Hauz Khas
Located in the popular Hauz Khas Village market, this buzzing restaurant offers a beautiful view of the lake. The lush greenery of the Deer Park and the pleasant atmosphere combined with their delightful food will surely enlighten your mood. You must try their Keema Pao and Butter Chicken Biryani that are perfect to dig into in this nippy weather.
Address:  9A & 12, Hauz Khas Village, New Delhi, Delhi 110016
Time: 11AM to 1AM
Contact:  078386 52814
Cost: INR 1,500 for two (approx)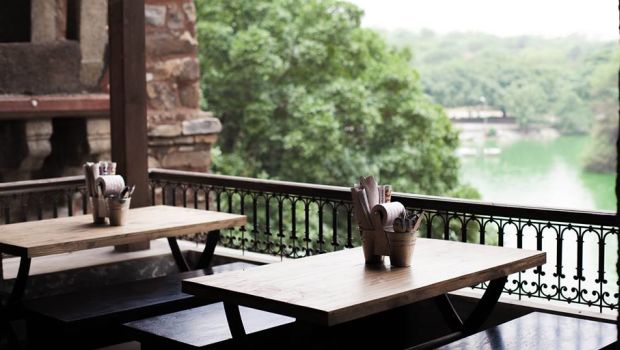 So, if you have been looking for a place to unwind and enjoy the weather, you know where to head to.