PUNE: Increasing disposable income among citizens has led to a boom in the food and beverage industry in the city with a new restaurant, café or eatery opening doors nearly every day. However, the trend has also brought along extreme failures with almost as many eateries closing down on a daily basis as entrepreneurs fail to understand the nuances of the industry.
Those closely associated to the hospitality industry cite the perceived glamour quotient and the misconception of hefty margins as the prime reasons for a rise in the number of youngsters jumping into the fray. With investments upwards of Rs25 lakh, people are ready to get into the hospitality sector despite the uncertainties involved.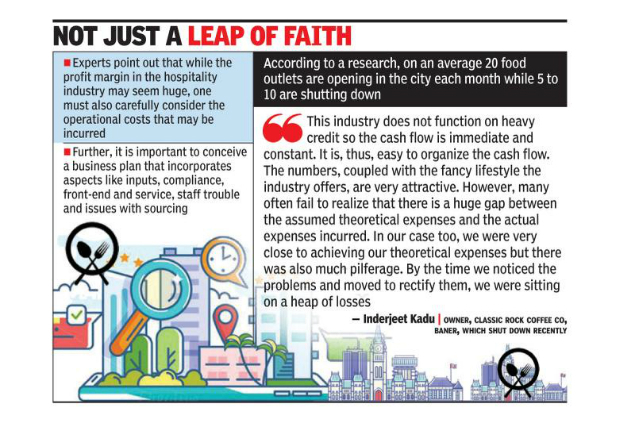 Elaborating further, president of Pune Restaurants and Hoteliers Association (PRAHA) Ganesh Shetty said that people tend to be attracted to the concept of owning a restaurant ans so they take hasty decisions. "When one sees crowded places, people think that restaurants are a lucrative opportunity to make quick money. Secondly, they dissect the prices of a particular dish and feel that the margin involved is huge, without considering the operational costs incurred," Shetty explained.
Food processing entrepreneur Kedar Gadgil, who is closely associated with the hospitality industry, said that most fail to understand the nuances. "Many start as home chefs. As soon as they come across a failed hospitality venture, they take over and then spectacularly fail. People are venturing into the industry without any knowledge of the business or any plans. They do not understand various aspects of the industry, like inputs, compliance, front-end and service. There are hidden problems, like staff trouble, sourcing problem and much more, that needs to be understood," he stated.
Brand consultant Akshay Dixit said, "The rate of success is higher for cafe's rather than restaurants as the investments for the latter are higher and it takes longer to achieve break even point. As per our research, on an average 20 outlets are opening per month while 5 to 10 are shutting down. The major reason is the lack of knowledge and market research. Also, brand owners fail to realize that the local market is different from that of cities like Mumbai and Delhi. In terms of marketing too, owners are lacking in promoting their restaurants."
Gadgil too agrees with Dixit, but he added that the hospitality industry is set to have an exciting future. On the other hand, Kadu stated, "This industry is headed just like the real estate industry. Lots of people are starting restaurants and there is an over supply in the market. This is the boom period and they may witness a crash."