Why do commuters have to fork out Rs 150-odd for samosas or around Rs 300 for a dosa at the airport? It is because food prices at our terminals are governed by much more than just the quality of grub.
For Sushmita Vohra, who works as a consultant out of Delhi, it was just another day trip to Mumbai recently. But by the time she flew back to Delhi the same night, Sushmita was fuming. For two meals on the go — breakfast at Delhi airport and a simple dinner at the Mumbai terminal — Sushmita had shelled out a neat Rs 2,500. "Breakfast was a cup of coffee and a muffin, and dinner was not at a fancy restaurant, but at a random food court outlet at the airport. Since this experience, I have decided to try and avoid eating at the airport as much as I can," says Sushmita.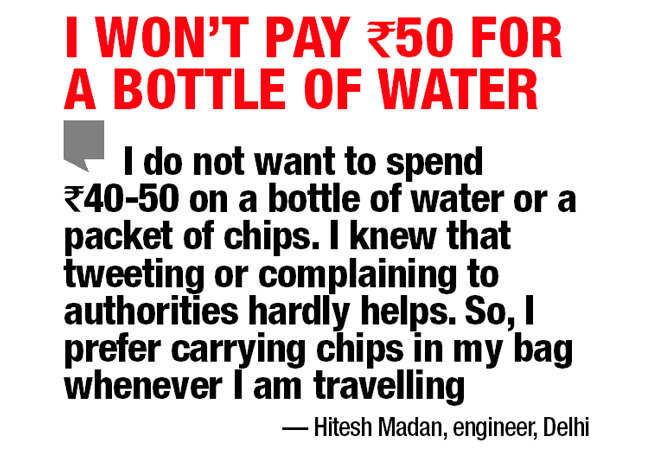 Sushmita is not alone. Hundreds like her curse their luck whenever they're forced to fork out exorbitant amounts for airport meals that would cost a third or less outside. The price difference is so glaring — Rs 150 or so for samosas or a sandwich and Rs 200-odd for a cup of coffee — that even P Chidambaram couldn't resist asking: "At Chennai Airport Coffee Day I asked for tea. Offered hot water and tea bag, price Rs 135. Horrified, I declined. Was I right or wrong? (sic)". He had tweeted
this last year.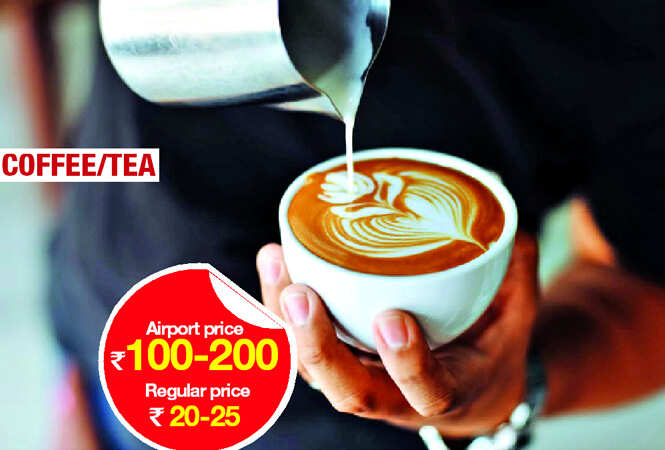 Give us a fair deal, say flyers
Over the years, passengers have complained to consumer courts and to Airports Authority of India (AAI) — which manages the country's civil aviation logistics and infrastructure — about food retail outlets charging exorbitant prices for packaged and non-packaged food items at airports. Reportedly, it was keeping these complaints in mind that AAI said last year that tea and snacks would be available at MRP at some counters in government-run airports. "The counters have already started offering a few beverages and packaged drinking water at affordable prices," an AAI official was quoted as saying in a report last September. The official added that counters will be available countrywide in more than 90 airports, barring those in Delhi, Mumbai and Bengaluru, which are operated by private players.
Despite such attempts by AAI, there seems to be hardly any change in prices. We got in touch with retailers that have establishments at major airports across the country to understand the reasons behind this. They attribute the high prices to factors like high airport rentals, high revenue shares charged by private operators managing airports and high maintenance cost for inventory.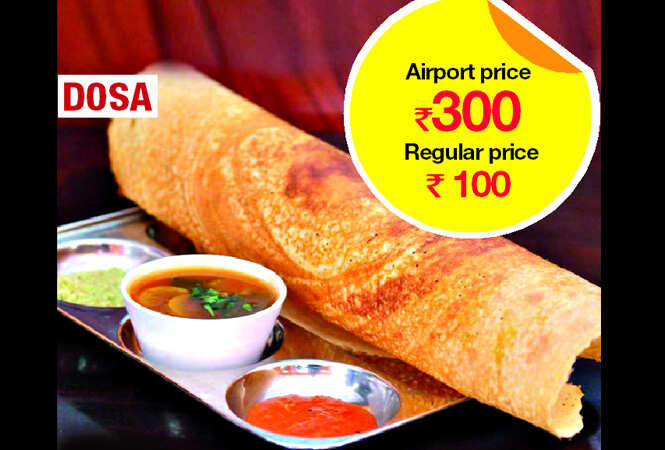 Logistics, inventory, staff — everything costs more at airports, say food retail chains and restaurants
Many retailers and restaurant owners claim that the prices at their airport outlets are "marginally high" than their outlets outside. Vikrant Batra, owner of Café Delhi Heights, which has outlets across NCR, including the airport, says, "Our prices at the airport outlet are roughly 15-18% higher than at our other outlets. Apart from high rentals we pay for space at the airport, one needs to understand how difficult it is to operate a restaurant there. We need to hire staff with a certain qualification (for security reasons) and their salaries are higher than what we pay to staff elsewhere. Also, storage and inventory transportation costs are very high, as the inventory has to go through many checks."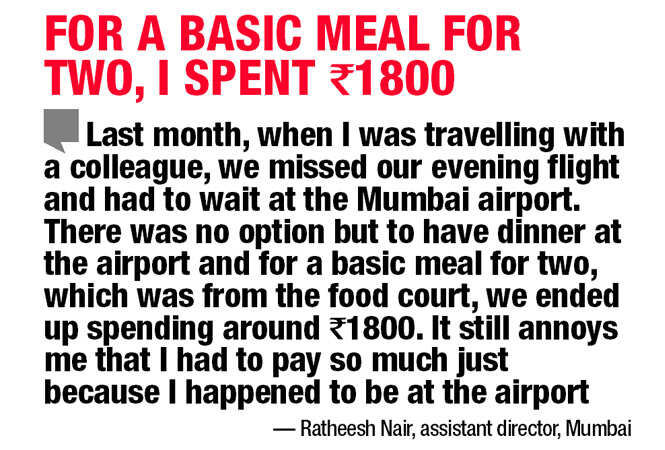 However, there is no denying the fact that airports are among the most desirable locations for restaurants and food retail chain outlets. "That is because if you are present at the airport, you do not need any other advertising. One can do away with having multiple outlets if you just have one outlet at the airport," says Vikrant. On condition of anonymity, another restaurateur with an outlet at Delhi airport, tells us: "To manage pricing and meet logistical costs and high rentals, some outlets also control portions (essentially, giving you less food). That's why consumers feel cheated."
Echoing Vikrant, a spokesperson from Tata Starbucks, which has outlets at Delhi and Mumbai airports, says, "There are many factors that contribute to our pricing decisions, including our overall cost structure — such as store operations and occupancy expenses, which include rent, labour, marketing, equipment, materials, distribution, and commodities associated with our beverages, food, materials and operations." Significantly, many companies managing food retail chains at airports refused to comment on their pricing when we reached out to them.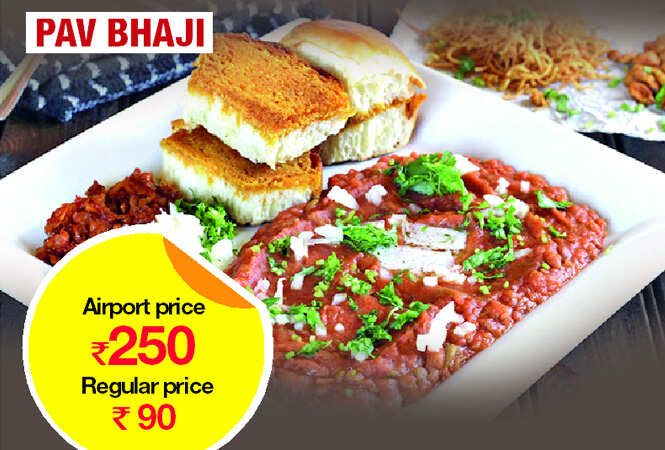 Food costs more, but not clothes or books. Why?
Consumers often feel it's only the food and beverages that cost more at airports, while other retail chains — apparel, jewellery, books and more — are priced uniformly across locations. "But they make the mistake of comparing a manufacturing unit with a retail store," says Amit Arora, MD of Buddy Retail, which buys retail space from airport operators to lease it out to F&B brands. "The entire process of manufacturing food at airports is far more complex than at any other location. Since transfer of inventory is an issue, stock has to be preserved at certain temperatures. You need equipment and machinery for that. You need staff to operate 24X7 at airports. Unlike other retail outlets, it is not that the stock will be transferred and put up on the racks. The cost of processing food and beverage is high and that is taken into account while deciding the prices," he adds.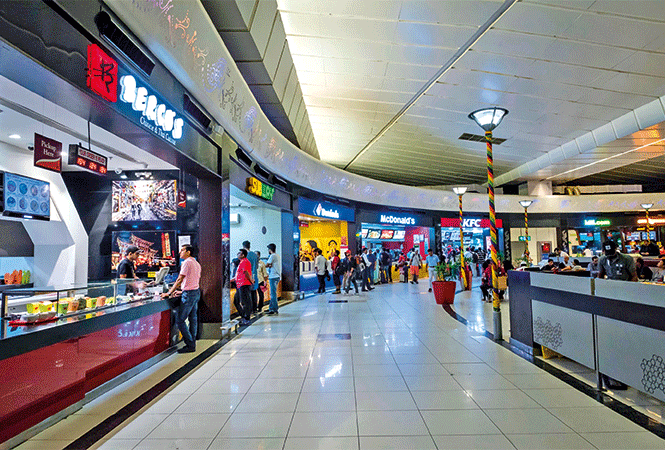 Exactly how much do food outlets pay operators at private airports? A whopping 25-30% of revenue share!
While some airports are managed by AAI, quite a few are managed by private operators and on condition of anonymity, retailers tell us that revenue share charged by these private operators, in airports like Delhi and Mumbai, is as high as 25-30%. "A part of our revenue also goes to airport operators and in case of big airports, this share is as high as 25-30%. When that kind of money is being deducted from your revenue, you can't but keep that in mind when you fix your pricing," says a retailer who has outlets at Delhi and Mumbai airports.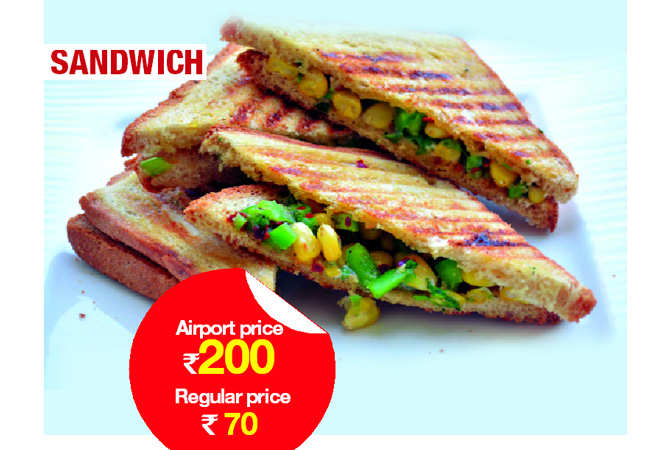 While not commenting on revenue share, Delhi International Airport Ltd (DIAL), a GMR group company, says in a statement, "Food and beverage packed items are sold at the airport on MRP basis. Prices of other items are fixed as per the brand, variety and quantity sold at various outlets at the terminals. Delhi Airport ensures that range of good quality food items are available to serve varied needs of all passengers." A spokesperson from Mumbai International Airport Limited (MIAL), which is part of GVK, the operator for Mumbai International Airport, had this to say in a statement: "MIAL has vending machines with packaged snacks on MRP. Similarly, the Mumbai airport has also introduced a new food facility for travellers where one could pre-book meals through mobile application, kiosks or QR code scanning and have it delivered to them at their boarding gates."