BENGALURU: Private equity firm CX Partners is picking up a majority 50.1 per cent stake in Dindigul Thalappakatti Biriyani for Rs 260 crore in what will be one of the largest investments in a local restaurant chain brand in India. The deal with the iconic Tamil Nadu restaurant, which started with just one outlet in a small town in 1957, will value it at close to Rs 600 crore which includes a share purchase from promoters besides fresh capital infusion for expansion.
The capital will be used by the promoters of Dindigul Thalappakatti, which makes a localised biryani different from Hyderabadi and Lucknowi, to expand in metros across India and also overseas. The investment by CX Partners, which has also invested in chains like Barbeque Nation, will also help it professionalise the management. Advay Capital Advisors was the investment banker on the deal.
The chain is now being run by 37-year-old D Nagasamy, whose grandfather started the chain, and who will continue to run the operations. After returning from his MBA in hospitality management from London in 2009, he started expanding the popular but still one outlet chain. Over the last 10 years, it has opened 64 outlets, including 7 overseas in France, Singapore, US, Dubai, and Sri Lanka.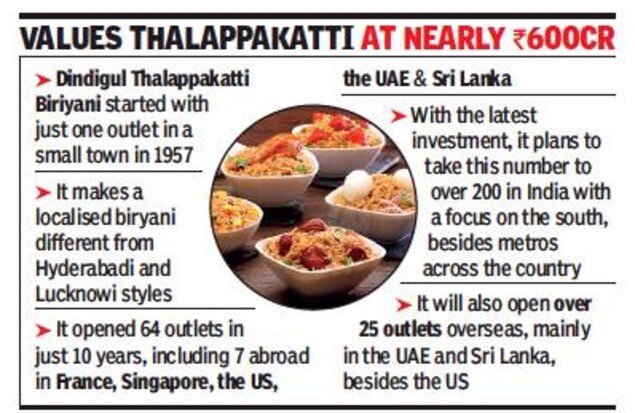 "We are not attracting only Tamil diaspora, but all South Indians. The US is the biggest market because our only restaurant in Milipitas in California generates over Rs 2 crore in monthly revenues," said Nagasamy.
With more capital, the plan is to take the number of outlets to over 200 in India with a focus on South India, besides metros across the country like Pune, Delhi, and Kolkata. It will also open over 25 outlets overseas with a focus on Dubai and Sri Lanka, besides the US.
Dindigul Thalapakkati is profitable and had revenues of Rs 250 crore in the financial year ending March 2019, and expects to cross Rs 350 crore in the current financial year. Overseas outlets contributed to over Rs 60 crore in revenues last year. About 50% of the revenues come from biryani items on the menu.
"We spent time with them and saw that they have a strong and differentiated brand recall in core markets, especially in Tamil Nadu and now in Karnataka with Bengaluru," said Jayanta Basu, managing partner at CX Partners.
Other biryani chains that have raised capital include Hyderabad's Paradise, which got over Rs 100 crore from Samara Capital and Biryani Blues from Carpediem Capital.