The once busy Irani cafes where waiters scribbled orders in a jiffy and flit between tables, balancing trays of tea cups and saucers, are fading away into history with changing culturescape of the city.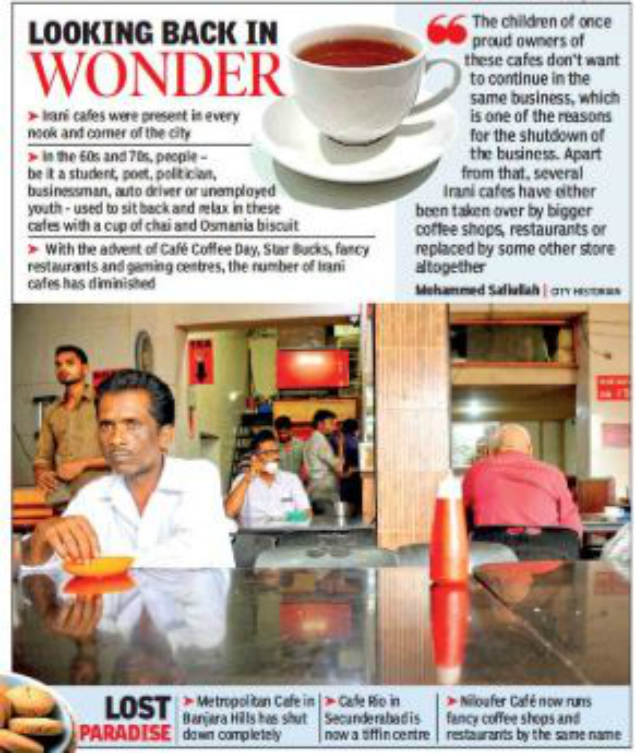 While most of us like to believe that Hyderabad is a city where one can witness a spectacular display of vast and diverse cultures, new and old, some of the features have been changing with the scene of coffee shops and gaming centres hopping on the trend.
Irani cafes were present in every nook and corner of the city. Here, people would sit back and relax with a cup of chai and Osmania biscuit, be it a student, poet, politician, businessman, auto driver or even an unemployed youth.
But with the advent of Café Coffee Day, Star Bucks, fancy restaurants and gaming centres eating into the local inhabitants, the cultural milieu of the city, while retaining some of its core elements, has undergone a massive change, like the fast diminishing number of Irani cafes which were unique to the city.
"Children of the owners of these cafes don't want to continue in the same business. Apart from that, several Irani cafes have either been taken over by bigger coffee shops, restaurants or replaced by some other store," said city historian Mohammed Safiullah.
While Metropolitan Cafe shut down completely, Cafe Rio is now a tiffin centre. Niloufer Café, which gained its name from its proximity to the famous hospital, runs fancy coffee shops and restaurants by the same name.
"One reason why the new restaurants and coffee shops attract customers these days is because they have good seating, are air-conditioned and have other amenities, which the erstwhile Irani cafes lack," said Mohammed Rehman, a college student.
M Ajit Kumar, a software professional, said, "People don't mind paying Rs 200 for a cuppa or relishing an Irani chai in Niolufer Café by paying Rs 40. However, they won't shell out a meagre Rs 10 in the old one because it's comfortable in the newer fancy restaurants."
"Some Irani cafes are not maintained well. You can see paan stains everywhere. Some people just come to have a cigarette. Not everyone feels comfortable in a place like that. And in some places like Niloufer or Nimrah cafe in Charminar, it is a real task to place our order. I guess we don't like to stand in a lane anymore while being pushed and shoved for just a cup of tea," he added.
Another instance of the culturescape changing in the city are YMCAs, gymkhana sand parade grounds being replaced by gaming centres.
"Youngsters are addicted to gaming centers instead of taking up an outdoor sport because the new technology, which is easily available these days," said Jacob Mathew, a basketball coach.
Experts say the government should create opportunities to encourage and revive these disappearing features that form the crux of the city's melting pot of cultures.