The influence of Westernisation and modernity, both in attire and attitude, is conspicuous in the urban locales of Nagaland. It is the Naga kitchen, the heart of the Naga home, that has resisted foreign influence for the longest period. Despite the early influence of western fashion and music, Naga food has remained traditional, largely because Naga gastronomic norms have been dominated by the "sacredness" of the Naga kitchen. The scene is changing though, and the positives of it surpasses the negative. A host of Naga chefs and entrepreneurs are making Naga cuisine go global, albeit with a hint of the contemporary, but not at the cost of compromising on its indigenous identity.
The kitchen is hearth and home for the hospitable Nagas and their large-heartedness is best manifested in the hearty meals. The kitchen, which traditionally used to be situated in the middle of the house and bigger in size than the other rooms, doubles up as sitting-room as well as the dining room. It is most common for friends and family to hang out at homes, unlike in metros where people prefer meeting up in restaurants and lounges. Eating-in, and not eating-out, has been the norm for the modern-day Nagas. A decade ago, even the bigger and more urban towns of Nagaland had but a few proper restaurants, least of all lounges. And they mostly served Indian or continental cuisine, or popular fast food like momos and noodles. The Naga hotels, not exactly grand affairs, serving Naga food largely catered to travelers. And the customers were generally Nagas.
Alemjungla Jamir, a chef herself and head of the department, Hotel Management at The Global Open University, Nagaland, recalls how there were hardly any lounges to hang out or restaurants you could take friends visiting from outside Nagaland for Naga food. "But now restaurants are popping up at every nook and corner and lot many of them serve decent indigenous Naga food," she adds. "You can see a lot more of Nagas going out to eat, with family and friends. Eating out is not just about food but spending also quality time together."
Dining out in Nagaland is yet to gain momentum, but eating out and takeaway are gradually expanding to become part of everyday life. The change can be gauged by the launch of mobile application Foodsafari by Jamir Digital Business Services.
And what is making Nagas leave their precious kitchen and go out for food? Alemjungla attributes this change to multiple factors. For one, she says, it is coming of age of Naga cuisine and emergence of a new breed of chefs. It has also been influenced by Nagas who got out to metros for study or work, and they form a sizeable population. "They have inculcated the culture of eating-out and hanging out in lounges during their time spent in the cities. And unlike before they have places to go to back home – the demand and supply going hand in hand." Gradually, she says, since the last two or three years, people in Nagaland are not just eating out but hanging out with friends and families. That is a far cry from when hanging out for families would mean trooping to a relative's or friend's home.
New breed of chefs
After returning from Chennai, where she did Hotel Management, Alemjungla started publishing recipes in a local English daily. A friend of hers opened an exotic school of cooking. Cook shows on television were gaining popularity and global cuisine was being beamed to every house. People were becoming more globalised in terms of food. All these factors broke the stronghold of the Naga kitchen and also broke the mould, as in the Nagas' tendency of restricting their palate to their own tribal delicacies. "Now you find most popular ingredients, used internationally, in departmental stores in Nagaland because there is the demand," Jamir notes.
Yet even in this transition, the sacred Naga kitchen has benefited the most – it has gone global and opened up new avenues for young Nagas. It has groomed and motivated cooks to emerge as Naga chefs and saved the indigenous cuisine from being swallowed by the culture of burgers and pizzas.
Over the years, Naga food seems to have emerged as a star, the maverick kind – unpredictable, eccentric and a trendsetter. The distinct ethnic Naga cuisine that stands apart from the rest of the country has captured the fancy of many, appealing largely to the meat lover and the adventurous. But this is not how it was always. Naga cuisine, in all its simplicity, can make the unaccustomed nose wrinkle, particularly with the use of ingredients like fermented soyabeans or dry fish. Nagas who migrate in large number to the cities, particularly to Delhi, face discrimination even because of their food preferences.
Manenchuba Jamir, proprietor of Nagaland Kitchen, one of the most successful Naga food restaurants in Delhi agrees that for Naga cuisine it is a newfound popularity. He started the restaurant in 2010, but it was around 2012 that the popularity surged. Nagaland Kitchen has a steady customer base, and a major chunk of its customers are non-Naga Indians and Southeast Asians. Many restaurants serving Naga cuisine are doing good business in Delhi and Naga food has more demand than any other cuisine from the North East. This he attributes to people in the country getting educated about Nagaland, bridging of geographical gap between the mainland and Nagas and tourism to Nagaland. "Non-Nagas now are gradually getting a better understanding of us Nagas and our food. This is happening due to many reasons; one would be better interaction of Nagas with the rest of the country," Manen observes.
Nagaland's well-known chef Joel Basumatari agrees with Manen. "Food cannot be seen in isolation from people. Food has to be seen as a cultural affair," he asserts while adding that "we have to cash in on this rising demand by presenting and promoting own distinct cuisine with diligence before the novelty wears off."
Karen Yepthomi, owner of Dzukou Tribal Kitchen, the other popular Naga restaurant in Delhi, is indeed diligently cashing on the growing popularity of her people's cuisine and doing her bit in promoting it. The entrepreneur, who regularly hosts pop-ups and mini food fests to promote Naga cuisine and her brand, has recently opened a branch of Dzukou Tribal Kitchen in Kathmandu, Nepal.
Indigenous and organic vegetables of Nagaland.
Among others, chef Joel has also been in the forefront in promoting Naga cuisine. Working with the North East Slow Food Agrobiodiversity Society, he has presented the flavours of Nagaland at Terra Madre Salone del Gusto 2014 and 2016, a major biennial food conference, held in Torino, Italy. Joel says the challenge lies in making food visually delightful for a heightened dining experience without compromising on its authenticity. He observes that the strength of Naga cuisine lies in the use of indigenous ingredients, distinct flavour, and that needs to be sustained as part of the Naga culture. "Presentation is paramount but it is important that Naga cuisine does not lose its distinct taste, texture and flavour."
New career opportunities
Back home, the popularity of reality cook shows on television gave birth to the Naga Chef contest in 2013, held annually during the Hornbill festival. The contest received tremendous response in its first year and the winner went on to open a restaurant in Dimapur, the commercial hub of Nagaland. Many of the subsequent winners of the show also started their own businesses and one even authored a cookbook. Promotion of Naga cuisine has provided impetus to entrepreneurship among the Nagas. In a state where unemployment is on the rise with the saturation in government job sector, cooking has opened up new career opportunities.
More significantly, the popularity of Naga cuisine is helping promote and preserve indigenous food, a key aspect of Naga culture. Chef Joel, who has been the head judge and mentor for the Naga Chef contest for five consecutive years says that Nagas themselves are discovering the uniqueness of their own cuisine. While the food habit of each of the many Naga tribes overlap, there are certain dishes characteristic of different tribes. More importantly, most young Nagas are not aware of the various indigenous ingredients or dishes that are not peculiar to other tribes than their own. "The Naga chef contest has been a journey of discovery for both participants and all of us involved. It is exciting how much one can do with indigenous organic herbs, and create new dishes which are both healthy and hearty," the chef exclaims. Naga cuisine doesn't have the concept of dessert. But having to cater to an international clientele, the chef has created varieties of Naga desserts using indigenous and organic ingredients.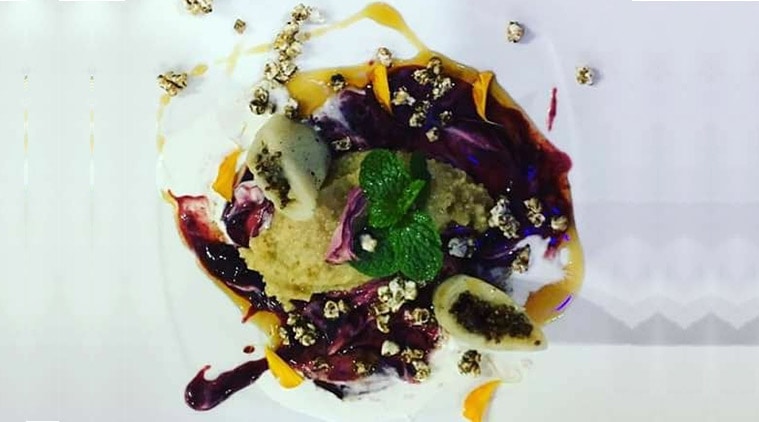 Chef Joel's Naga dessert.
With Naga cuisine finding larger acceptability, young Nagas are falling in love with their indigenous food all over again and they are taking pride in their uniqueness. Nagas in Nagaland now go out to eat in modern Naga restaurants to experience the food of different tribes. Fourteen-year-old Nisi Chase who made it to the top four in the 2017 edition of the Naga Chef contest stands testimony to the new found love of Naga food among the Nagas. A fan of burger and pasta, she has discovered a new world of herbs and indigenous ingredients while participating in the contest. "I learnt about a lot many herbs and I am excited to try them out in different dishes," she exclaimed, on the sidelines of the contest.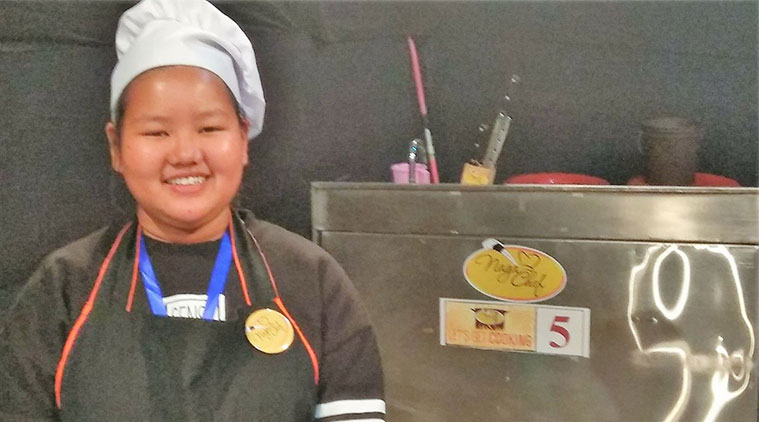 Naga Chef 2017 finalist, 14-year old Nisi Chase.
Naga food demands an acquired taste, Alemjungla categorically states adding that "once you get a taste of it, you will come back again." She is confident that Naga cuisine, which is similar to Southeast Asian food, can find a global market if promoted in the right manner.
Contrary to popular belief, Naga food is not just exotic creatures boiling in a pot; the distinct Naga cuisine has a lot more to to offer and people from all over the country and the world are waking up to the aroma of the healthy, organic and palatable food of the Nagas. And the Naga chefs and entrepreneurs are doing a commendable job of orienting a global audience to this completely different repertoire of food.