SILIGURI: Siliguri can be a nightmare to navigate during the day. Tiny lanes with open drains on either sides box vehicles in. Impatient drivers honk relentlessly. The drive to the offices of Teabox, a primarily online seller of curated premium teas, soon becomes demanding.
The bustle is more orderly on the premises of Teabox, about 15 km east of the Bagdogra airport. The tea-tasting room sports a minimalist brand logo. Behind the wall is a mini studio for taking photos of new teas for branding. In an adjacent block, bulk tea is put away in cold storage, with the temperature cranked down to 2 degree Celsius.
Outside, three men sift tea leaves for foreign particles. Tea bags are being packaged in another room. Also part of the premises are a research & development space to create new tea blends and a fulfilment centre, from tea is dispatched to 114 countries.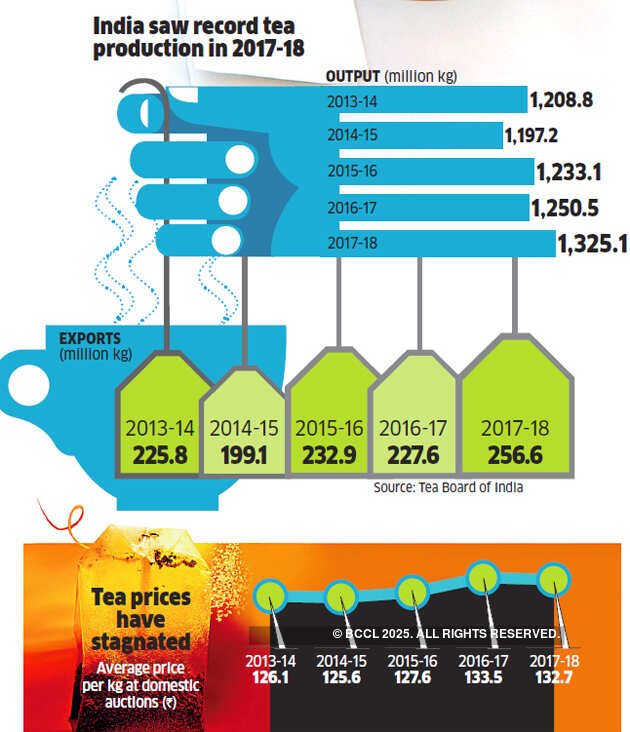 The contrasting situations of the road and the offices are symptomatic of the situation of the tea industry in India today — within a promising industry that urgently needs to change several aspects of its functioning to remain relevant are startups that are trying to revive the trade by rewriting the rules of the game. Outfits like Teabox are making expensive tea easily available for the average Indians. Earlier, these varieties were exported and not easy to come by in the country. Such moves would push the growth of the industry, which is often grappling with labour problems.
Several trade unions had on August 7 held a threeday industrial strike in over 200 tea gardens of Terai and Dooars. Around the same time, the world's largest tea producer, McLeod Russel, said it was planning to sell tea estates with unviable yields due to adverse weather conditions, another problem the industry faces.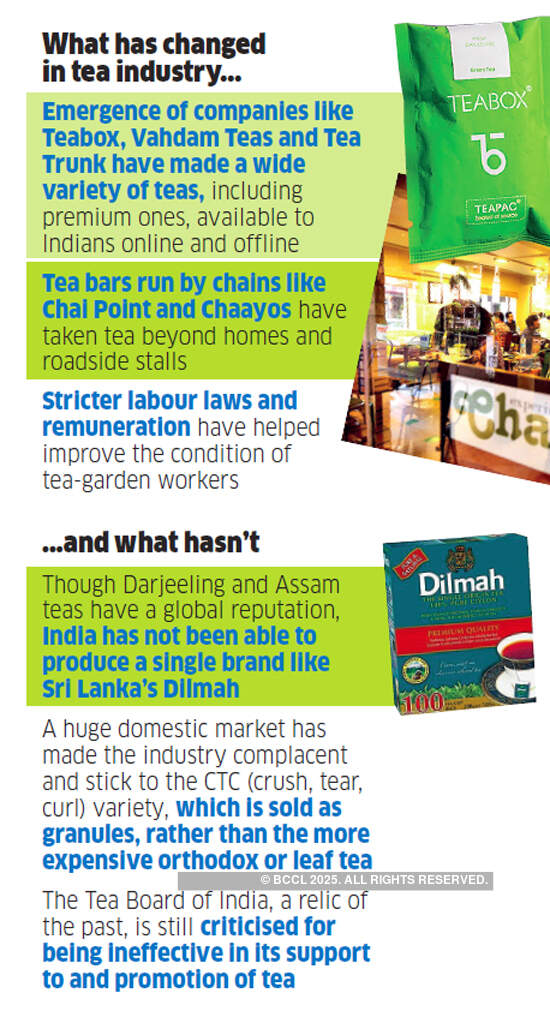 Teabox, Tea Trunk, Vahdam Teas and Namhah are among the crop of ventures trying to tackle some of these issues through premiumisation — and giving domestic consumers more access to expensive tea is one aspect of it. Another encouraging trend for the industry has been the mushrooming of tea bars.
Teabox, for one, is ready to go beyond online and retail sales. Its first full-fledged store will open shortly at the Mumbai international airport. Founded in 2012 by Kausshal Dugarr, Teabox sells 250 varieties, including 150 single-estate, teas from in and around Darjeeling, Assam, the Nilgiris, the Northeast, Kangra in Himachal Pradesh and Nepal.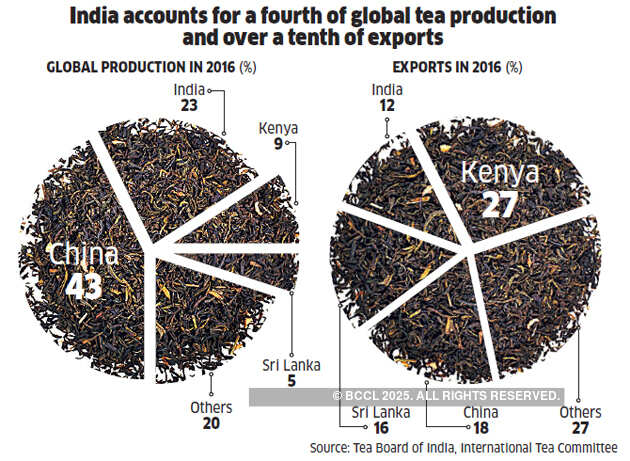 Darjeeling tea accounts for 60% of Teabox's sales by volume and 85% by value. While Teabox does sell tea blends — which are usually had with milk, the way India likes its tea — its offerings also include black, green, white and oolong varieties. For the adventurous, Teabox offers a subscription plan that sells five varieties of 30 g each every month. The company, which already sells teas in select retail outlets, already has the backing of investors — in the form of $13 million — from investors such as Accel Partners and Ratan Tata.
Assam produces half of India's tea and West Bengal less than a third. South India accounts for only 18% of India's tea production, but the Nilgiris has lately gained a reputation for making good premium teas. Two years before Teabox was set up, Chai Point set out to do for tea what Cafe Coffee Day did for coffee. It has over a hundred outlets in seven cities and has raised $33 million in funding. "Our goal is to own the chai ritual for the white-collar Indian," says founder and chief executive Amuleek Singh Bijral. Two-thirds of the tea ordered at Chai Point outlets are with milk but, Bijral says, consumers are open to trying out other varieties.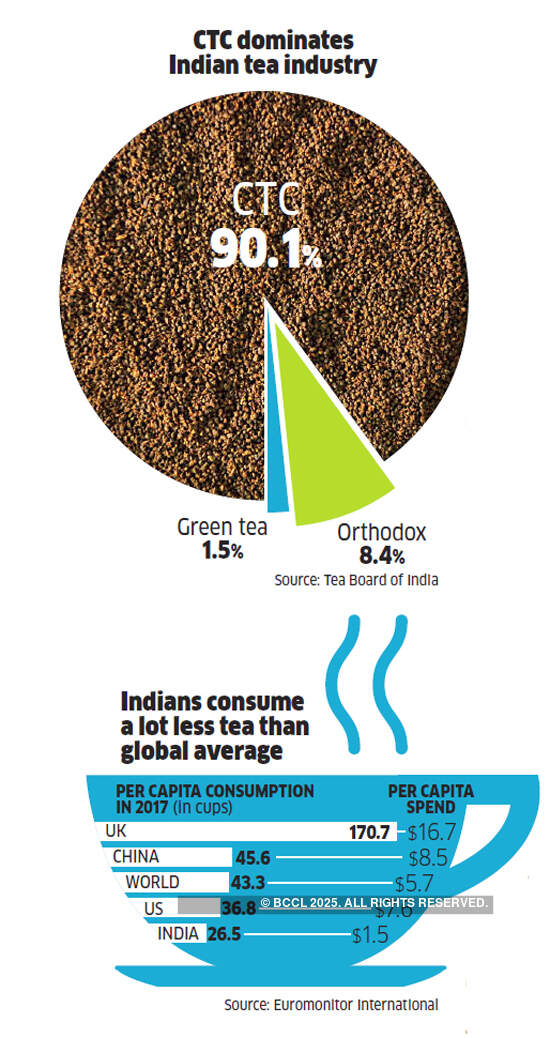 "We have launched orthodox (whole leaf ) teas with flavours. The Indian consumer hasn't said no to these things." Apart from Chai Point, established players also see value in tea lounges. Wagh Bakri has had tea lounges for a while, and Tata Global Beverages and Hindustan Unilever, which has brands like Brooke Bond Taj Mahal and Lipton, have also ventured into this space. Orthodox varieties are whole-leaf teas. It is more expensive than the granular variety made using the crush, tear, curl (CTC) process. The dust from the CTC manufacturing process is sold in the mass market, and this variety is usually had with milk. Teas of higher grades are usually had without adding milk.
The bulk of India's tea production is CTC, at 90%, while orthodox accounts for 8.4%. The rest comes from green tea. CTC also makes up 60% of India's exports. Orthodox tea from Assam can on an average fetch Rs 500 per kg, which is twice as high as CTC. Prime Darjeeling orthodox commands prices three times as much as Assam orthodox. Orthodox also costs around 15% more than CTC and is more labour intensive as leaves have to be plucked with more care than for CTC.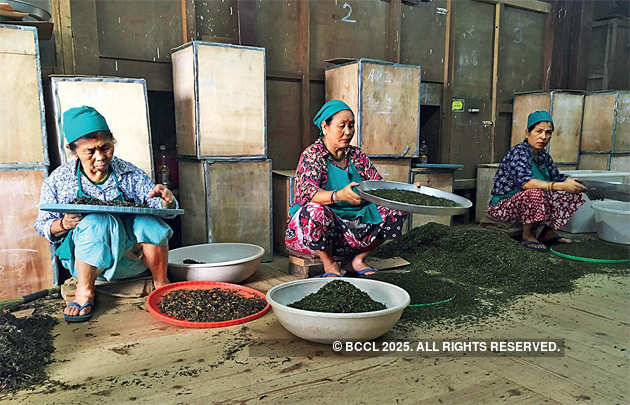 There is potential for black tea, says a spokesperson for Tata Global Beverages, which owns brands such as Tata Tea and Tetley varieties. The market for green, specialty, fruit & herbal teas can also be widened, adds the spokesperson. Sales of green tea, thanks to its perceived health benefits, are on the rise. According to Euromonitor, the green tea market grew 22% between 2016 and 2017, albeit on a low base.
Tea is the world's and India's beverage of choice, after water. The organised branded tea segment was at about Rs 12,970 crore in 2017, up from Rs 12,240 crore in 2016, according to market research firm Euromonitor International. India is the world's second largest producer of tea, after China. In 2017-18, it recorded the highest production, at 1,325 million kg, 6% higher than the previous year. Exports grew at more than twice that rate to hit 257 million kg. In 2016, the latest year for which global data is available, India produced a fourth of the world's tea but accounted for just over a tenth of total exports, thanks to its huge domestic market. There is scope for Indian tea growers to up their share of the global export market, say experts.
Production Cost
But there are some problems that stop this industry from reaching its potential. Azam Monem, chairman of the Indian Tea Association, says production costs have risen at twice the rate of prices over the past decade. The market is no longer lucrative for producers as prices have stagnated in the Rs 125-132/kg range over the past five years. In the organised sector, labour costs are responsible for two-thirds of the cost of production. He wants the production subsidy for orthodox tea to be raised from Rs 3 a kg to Rs 20 a kg to make it more attractive.
In July, the Assam government hiked daily wages for tea garden workers by Rs 30 to Rs 167, compared with Rs 159 in West Bengal. Estates pay provident fund and gratuity, and provide housing, ration, firewood and medical benefits. Tea estates also have to contend with the rising contribution from small tea growers, who, by definition, cultivate less than 25 acres. Between 2014-15 and 2017-18, their share of India's tea production has risen from 34% to 47%. The labour costs of these growers are not as high as that of the gardens. "Tea gardens are at a distinct disadvantage compared to small tea growers. The government should ensure a level-playing field," says Nazrana Ahmed, chairperson of the Assam Tea Planters Association.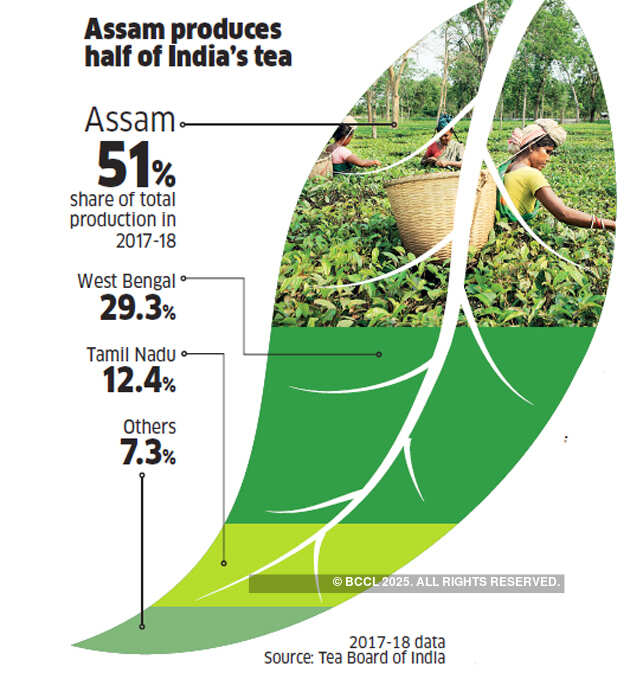 In this situation, there have been calls for a shift from CTC to orthodox for a higher price realisation, to ensure better margins, and to tap the export market. "The Indian market has made us complacent. It used to be easy and lucrative," says Monem. Higher wages, however, have not increased labour strength. Mohammed Ali Hasan, manager of the Simulbarie Tea Company estate in Siliguri, says he has 25% fewer workers than required, which has forced him to turn to mechanised plucking over the past couple of years. Simulbarie makes CTC.
The labour situation is even worse at Giddapahar Tea Estate in Kurseong, less than an hour away. "We need 250 people a day, but we have only 150," says Sudhangshu Kumar Shaw, whose family owns the estate, while talking us through his aromatic teaprocessing unit. Giddapahar is one of 87 estates in Darjeeling district that can grow and sell a variety of orthodox teas from the district that has to be plucked manually. Darjeeling tea was granted a geographical indication tag in 2004, which is a certification given to a product of certain qualities and is associated with a particular region. Giddapahar produces 30,000-35,000 kg a year from its 239 acres.
Last year's Gorkhaland agitation in Darjeeling cut production by more than half. But Shaw is not unduly worried about the shortage of workers and political unrest in the region. "If there isn't quantity, you should look at quality. It is a buyer's market now. You have to make different kinds of tea. People get bored of drinking the same kind." Giddapahar produces black, green, oolong and roasted teas used in blends.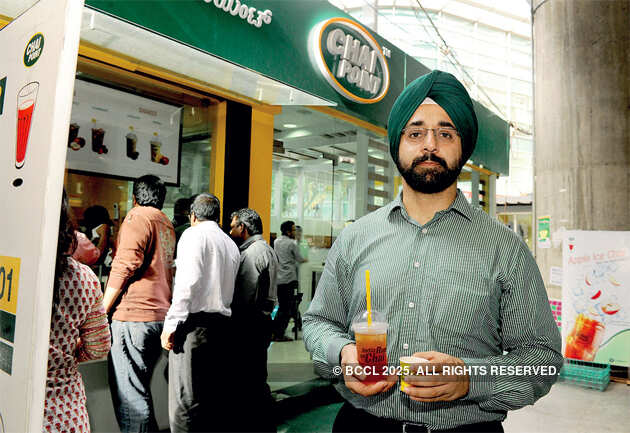 While he makes a profit, he says half the Darjeeling estates are losing money. Experts say this is due to their resistance to change, unlike planters in the Nilgiris and Assam, who are more willing to experiment. Commercial tea production in India dates back to the 1830s, when the British started cultivating tea in Sadiya, 60 km north of Tinsukia in Assam, to put an end to the Chinese monopoly on the commodity. In the 1950s, tea cultivation was introduced in other parts of Assam, Darjeeling, Kerala and the Nilgiris.
Darjeeling is known the world over for its first flush and second flush teas. First flush, which is tea plucked in March-April, is smooth on the palate and has a light golden colour. It sells for an average of Rs 1,500 a kg. Some estates get much more for their produce. Second flush, which is plucked between mid-May and mid-July, has fruity notes and a dark amber colour. It fetches around Rs 1,200 a kg. The fame, however, has not produced a brand to be reckoned with. Darjeeling tea is renowned globally due to its legacy and not because of any conscious efforts of industry bodies, says Dugarr of Teabox. He points to what Sri Lanka has done with Ceylon tea.
"Sri Lanka has been able to do an incredible job in marketing their tea and Dilmah is the first brand from south Asia to achieve the kind of scale it has." Monem, who is also a director at McLeod Russel India, says India does not have a single comparable brand. Gopal Upadhayay, operations manager with Teabox in Siliguri, says despite its long history in tea, India does not even have a tea sommelier course that can match Dilmah's. Tea is one of Sri Lanka's key foreign exchange earners.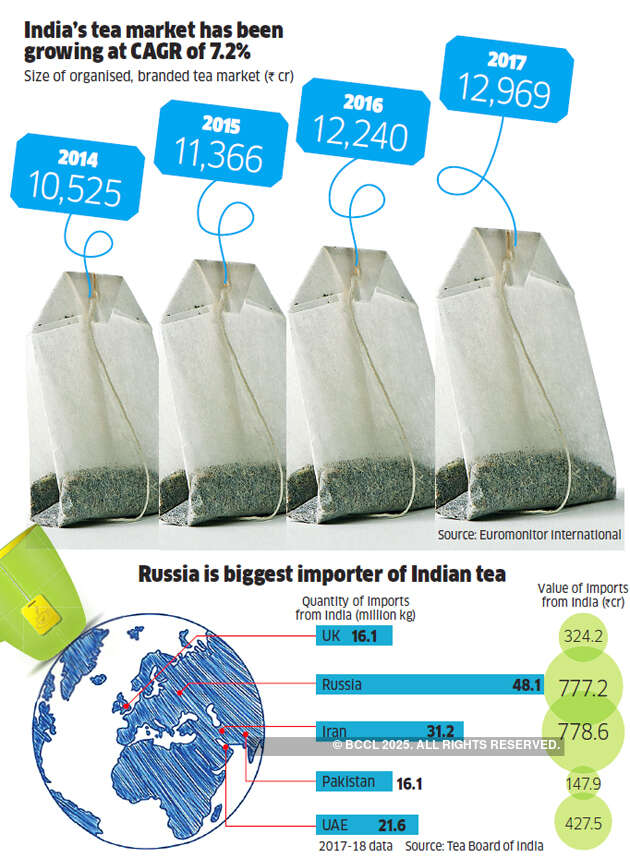 Around 92% of Sri Lanka's tea production in 2017 was orthodox and 94% of its production was exported. Dilhan C Fernando, CEO of Dilmah Ceylon Tea Company Plc, says there was an effort by the Sri Lankan government to encourage CTC over orthodox in the 1980s, which his father and founder of the company, Merrill, resisted. Dilmah is sold in 104 countries.
"It was possible for a brand linked to a specific origin to harness the positive sentiments associated with that origin many years ago, although in the current commercial environment the brand needs to make a vastly greater effort, especially in the premium segment," says Fernando. Countries like India, Sri Lanka, Kenya and Indonesia should move beyond being just bulk tea exporters. "We are exporting the value that should accrue to our economies," he adds.
Promotion Failure
The Tea Board of India, under the ministry of commerce, has often been criticised for not changing with the times. Monem says the body has lost its relevance as global trade opened up. It failed to promote tea as a drink, which brands have been able to do. K Gopal Krishnan, director of Glenworth Estate in the Nilgiris, says the southern tea industry has not got the support of the board. "They don't invite us to global exhibitions," PK Bezboruah, chairman of the Tea Board, did not respond to calls and messages, and deputy chairman Arun Kumar Ray was not available for comment. While ventures like Teabox and Chai Point are harbingers of new ideas in the Indian tea industry, large sections of it are still stuck in the past. But market pressures will necessitate a change in the status quo.