Riyaaz Amlani, the CEO and MD of Impresario Entertainment & Hospitality Pvt. Ltd and the Ex President of NRAI (National Restaurant Association of India) is also often referred to as eatopian, hospitality wiz and a coffee baron. Over the years Riyaaz has assured a cumulative expansion of Impresario's operations across the country by establishing 48 restaurants across 15 cities. Its umbrella of brands include Mocha, Smoke House Deli, Salt Water Cafe, Prithvi Café, The Tasting Room, Social Slink & Bardot, the very recent and successful brand FLEA Bazaar Cafe. Starting out as an outsider to the hospitality industry, today Riyaaz is highly respected and well-known in the restaurant business in India. He is known for his uncanny ability to provide unusual and novel experiences in all his ventures. In an exclusive chit-chat with Muneet Walia of Times Food, he spoke about the new trends and future of restaurants in India, among others.
With so many multi-cuisine restaurants mushrooming in the country, do you think, desi food has taken a back seat?
I think while customers want innovation they also want their old favourites, so I think that it's also walking the line between creating new ideas yet maintaining your standards and making sure that people come back for that consistency that is delivered to them. So it's a mix between making sure that you keep doing what you're known for well and keep bringing new things that will surprise and delight our customers.
When it comes it restaurants, there are some people who go back to the same establishment for the food, some go back for the vibe and some go back for the service. I think like many other restaurants in the country, we try giving our customers a mix of all. The customers needs and tastes do keep changing and we have to change with them. We have to evolve with the needs of this industry so in the end it all comes down to innovation. What's relevant today might not be tomorrow and yet keeping up with the times is essential.
What is that one thing you ensure your restaurants follow as a rule?
We try to make sure that we add value to somebody's life. Whether it is giving them a moment to disconnect and get "social offline", which is what we've always stood for, to get people to have face to face conversation, across the table without a screen in the middle as your interact. We have always maintained that we want to create a community.
Tell us something about this new anti-design concept in context of restaurants?
The concept of anti-design has a strong focus on upcycling. It is also to give a comfortable, non-conformist and informal approach to restaurants where people come to relax in a comfortable atmosphere and chill.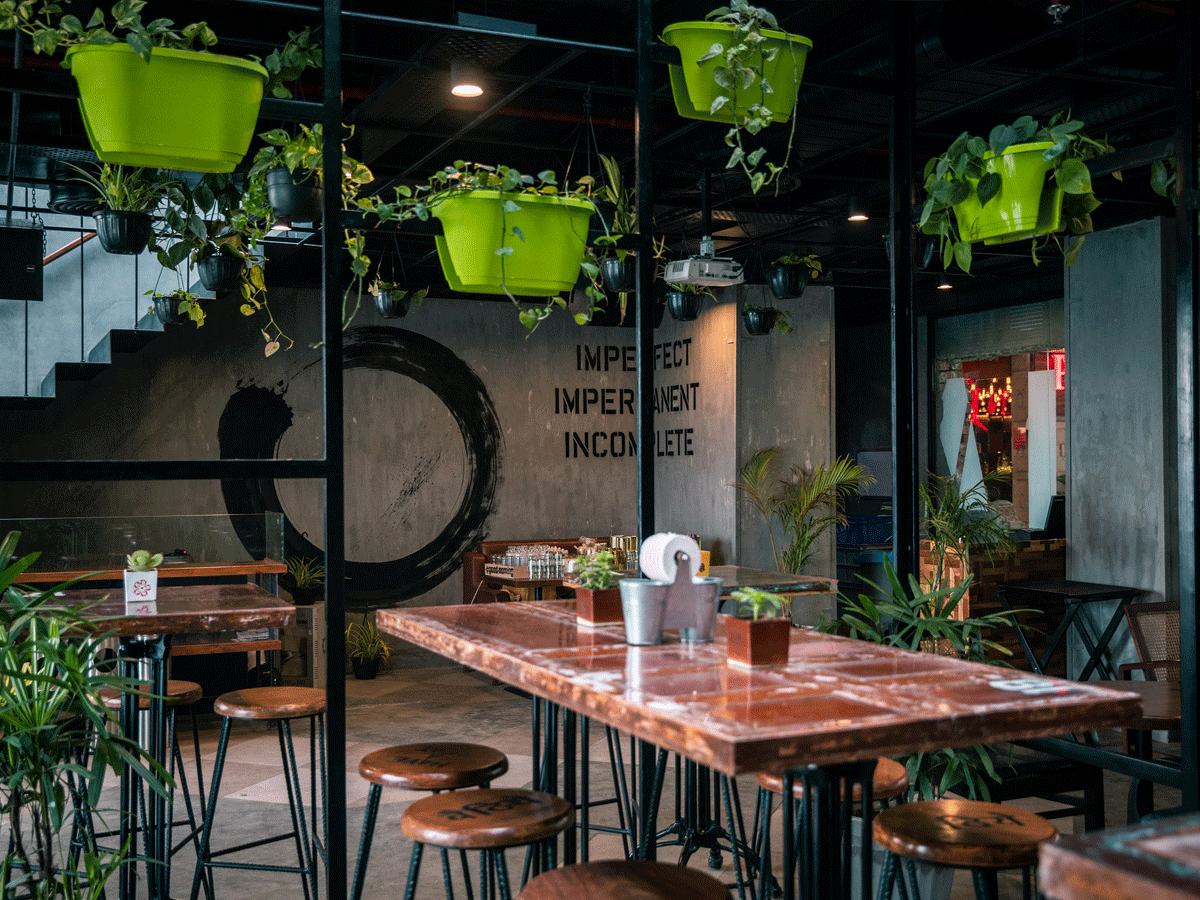 Tell us something about the Japanese concept wabi sabi and how you have put it to use?
Delhi's 6th (and the country's 22nd) Social is built around the concept of wabi-sabi, a Japanese worldview that finds beauty in incompleteness and simplicity, and appreciates the ingenuity of nature and its designs. From the eye-catching, 'demolished' exteriors that are juxtaposed against the clean lines of Vasant Kunj's Ambience Mall, to the foliage all around, every inch of the space is an ode to these principles. At the far end, a few lines of text pay homage to the philosophy that inspired the space, outlining the concept of wabi-sabi for everyone who walks in, while another wall features a simply drawn circle that stops just shy of closure, called an enso – a direct shout-out to wabi-sabi's devotion to finding beauty in simplicity and imperfection. Outside, one might think they've stepped into one of the rare oasis of peace in Delhi – think sun-dappled mounds of green that moonlight as seats blending gently into the ground, giving the impression that they're growing directly from the floor, while lighting fixtures made of branches sway gently in the breeze.
What inspired or transpired in conceptualizing the food menu of Social?
Consumers are well exposed and travel across the world, so innovation is the need of the hour. Social media has also expanded our horizons and consumers are well aware of what they want. We at Social have an eclectic menu that has been celebrated by audiences across markets like Delhi, Mumbai, Bangalore, Chandigarh and Pune. With each new Social, we try to push the boundaries of the brand and pay tribute to the community which we serve. As for the menu, while most of it is common Pan India, every city features their own regional dishes on the menu – what we call the Local Heroes.

Why is there a sudden rise in cafe culture?
 Brands across the globe are marking their presence as cafes. There are innumerable outlets across cities that compete and try setting themselves apart through their ambience, f&b offerings and deals on products. The reason behind the sudden rise is due to this and the fact that markets have opened up and render easier access to their audience, offering diverse experiences through activities, multi-disciplinary spaces, innovative food and drinks.