GURUGRAM: Ahatas — Millennium City's most sought-after socialising venues — could soon face the rap. Following complaints from its Gurugram chapter, the National Restaurant Association of India (NRAI) is planning to knock the doors of Punjab and Haryana high court against these informal restaurants, for non-compliance of laws prescribed for operating restaurants. NRAI alleged ahatas are cooking and serving food along with non-alcoholic beverages, without requisite licences for operating restaurants.
Many of the city's 68 ahatas advertise on food delivery apps and social media, presenting themselves as BYOB (bring your own booze) restaurants, though they neither follow norms nor take mandatory approval for restaurants. Effectively, regular restaurants are complaining that by not having to follow norms for restaurants, ahatas are undercutting and hurting their businesses.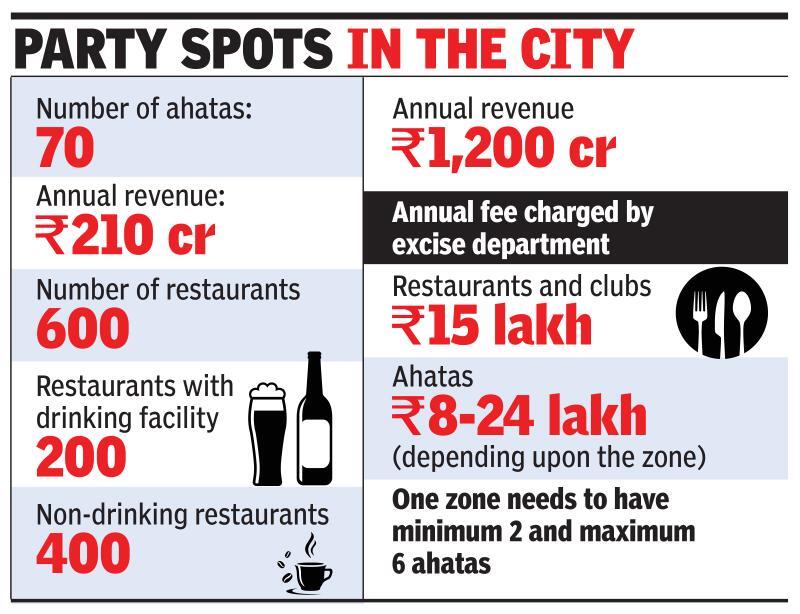 Introduced as 'small open space drinking place adjacent to liquor vends' in 2005 — to 'prevent rowdy and drunken behaviour in public' — Gurugram's ahatas have slowly turned into hip places with live music, special appearances of world-class bartenders, eye-popping interiors and exquisite food menus. Increasing footfall at these outlets has also attracted scrutiny, with ahatas criticised for ignoring safety and violation norms.
They started as small spaces with bamboo sheds. Though they were initially restricted only to largely middle-class men, they are now famous for hosting birthdays, anniversaries and farewells for the city's top executives, with many regular party-hoppers stating they began shifting their allegiance from fancy pubs to ahatas after the new excise policy of April 2016 barred pubs and bars from serving liquor at rooftop gardens, lawns and other open spaces.
Rahul Singh, president of NRAI, said Gurugram's ahatas are openly flouting restaurant laws. "While they adhere to excise police by providing a 'safe' drinking place, these BYOB restaurants are preparing, cooking and serving food and other beverages, without having to comply with food safety, fire prevention, pollution control norms, apart from trade licenses and taxation," said Singh. He added they are now planning to approach the Competition Commission of India (CCI) along with the high court, based on complaints by its Gurugram chapter members, after no action was taken on the petition they had filed at the CM window grievance cell.
Haryana's excise policy 2018-19 authorises anumat kaksh or ahatas as drinking places, though they are forbidden from selling or supplying liquor to consumers. The place needs to well-ventilated, adequately and nicely furnished, clean and dry, and situated in a building with pucca floors. The entrance should have an automatically closing door with furniture arranged in such a way that passers-by do not get a view of its interior.
Though the norm is silent on serving food, it clearly says the outlet shall not permit singing, dancing or theatrical performance or entertainment. "But these days, they're cooking and serving food along with beverages, hosting birthdays/anniversaries and even corporate parties," said a restaurant owner. They don't even have trade licenses from MCG and don't pay GST, he added.
Section 2(g) of Haryana Restaurant (Consumption of Liquor) Rules, 1988, describes "restaurant" as any place where public is admitted for consumption of food or drink for a consideration. It includes ahatas in urban areas.
Owners of ahatas are happy with the rise in footfall down the years, since they started introducing live music, performances and an expansive food menu. "Business has picked up as many people from Delhi and Noida prefer the casual vibe of ahatas, where one can enjoy an evening without feeling their pocket is getting pinched," said the owner of an ahata on Golf Course (Extension) Road.
Gurugram deputy excise commissioner Harish Dahiya said licenses to ahatas were given as per state government policy. "The policy states license for ahatas can be given only within municipal limit. Each zone can have a minimum of two and maximum of six ahatas, from which the department collects annual license fees in advance," he said, adding all Ahatas are registered and pay GST on food items they sell. As for food safety, trade license, fire and other norms, he said these don't come under the excise department's preview.