Gary Mehigan first visited India way back in 2012, and it has been a continued love affair since then. The Australian chef, who is one of the judges on the widely popular MasterChef Australia show, was in India recently to celebrate the country's culinary culture as part of the Australia Fest. He travelled to Mumbai and Delhi, judging Mystery Box Challenges and holding masterclasses. From how Indian food has evolved over the years to his favourite Indian dish to make when at home (the answer will surprise you) and even a little nugget of info about the history of biryani in the country – he spoke to us about all that he loves about desi food.
How has Indian food evolved on the world platform?

The Indian food is really stepping up on the world stage. You have got a lot of regional diversity in India, but around the world, there is a very limited range of Indian dishes, and people see it as a homogeneous cuisine. But now, Indian chefs have been travelling, and when they come back, they do incredible things locally – especially the young chefs. They are doing things differently, they have got experience that they are applying it to local, sustainable and indigenous food here. The next step is the export and that needs new intellectual properties, creative ideas. I think the world is realising that there is a huge amount of creativity, diversity.
For the first time in MasterChef Australia's history, Indian-origin cooks did so well. What was different this year?

What's exciting about the food that Loki Madireddi and Sashi Cheliah (who won the season) cooked this year is that Australians love spice, they love sweet, sour, salty. And like Indians, they love crunch too. Crunch is a major part in what drives our taste. A simple chaat for example, you know, we have got samosa chaat or chhole bhature, they are quite new to most Australians. We don't see that kind of thing a lot, it's very traditional, even if they are given a new twist. They are really complex and delicious and they appeal to the Australian sense of taste. We love hot food, we love chilli, a lot of south east Asian food and Indian food really appeal to Australians. So I think that's why the contestants did so well this year.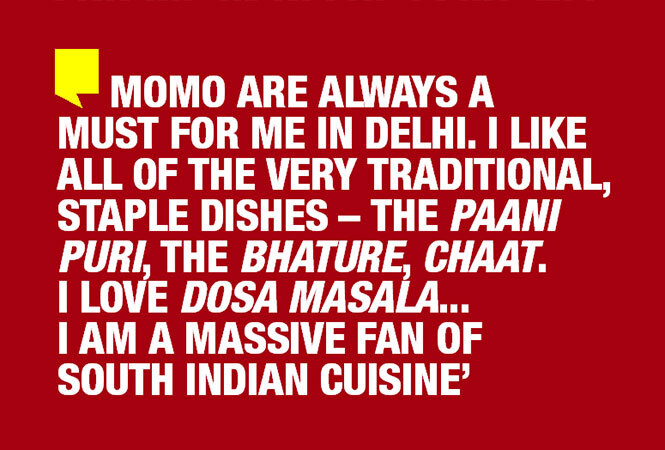 Have you had the chance to step out and eat street food in Delhi?
I have actually had quite a lot of street food, and the dumplings – momos – is high on the list for me. They are always a must. I have also been to couple of restaurants in Delhi. I like all of the very traditional, staple dishes – the paani puri, the bhature, chaat. I love dosa masala. Some of the desserts. My wife is visiting for the first time this year, and so is my daughter. So they went out and had a lot of street food – gulab jamun and jalebi, and this dessert made from chickpea flour and jaggery – is it called laddoo? These things are a little addictive, so maybe they'll turn me into a diabetic, but they are very delicious!
How does Indian food stand from the innovation perspective?

I think innovation tends to happen in the big cities. So Mumbai, Maharashtra, is like the epicenter I suppose for cosmopolitan dining – but don't tell Delhi that, don't tell Calcutta that, because everyone will get upset (laughs). But from the traditional perspective, I am a massive fan of south Indian cuisine, particularly Kerala and Chennai. I like Kerala-style fish curry, that are really kind of dark and red, it's delicious, but I also like the subtleties of south Indian food. I like the rice cakes – the idlis, the appams. And I love I suppose the familiarity of the coconut cream, lime or lemon, curry leaves. I had a beautiful goat curry with a creamy cashew sauce with green cardamom and clove. So even though I like the big spicy dishes from the north, like Rajasthan, going south is kind of refreshing and the kind of food that I really enjoy eating every day.
Any Indian dish you would want to reinvent?

Oooh, reinvention of an Indian dish… You know the south India podi, those powders – I love those. I make a couple of different podi at home, and they are probably not traditional at all. And I play around with things like the galouti, which is like a very traditional dish. The galouti spices in itself are really delicious, and don't have to be in galouti. So I use them for other things like roast chicken because I love that combination of rose petal, clove, mace, the different spices, that lend themselves to lots of different things. There is also a black pepper chicken, a south Indian dish, that I picked up the recipe for – black pepper, a little bit of chilli, fennel seeds, yogurt, curry leaves and cashew paste. And I make that dish all the time and I play around with it at home.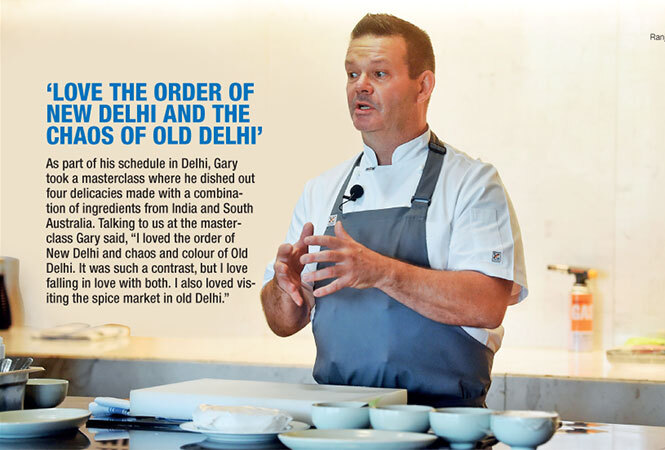 Which Indian dish do you make the most at home?

I like butter chicken (laughs). Last time I came to Delhi, I think every restaurant I went to, they wanted to give me their version of butter chicken. So I got a pretty good idea of what's good and what's not good. So I make butter chicken, I make that black pepper chicken a lot. I make dosa, I make a really rich lamb curry and we make biryani often. I have had a couple of different types of biryani over the years. I have had a rice-less Irani biryani. Apparently, when the Persians brought biryani to India, Indians added the rice. I never knew that.
Is there still some Indian dish that you haven't tried yet?

Wow, there are too many to even mention. The food in northeast India is completely different because it is in the border of China and there are a lot of different influences. So I look at that and I go wow, I haven't been there. I want to go to Kashmir as well. So there's lots to see and lots to experience.