The food trend this year is all about activated charcoal, fusion cuisine, rolled ice cream, and much more.
We've hit the half way mark of 2018 already and it's time to see if any of the food trend predictions made at the turn of the year have turned out to be right. Although activated charcoal as an ingredient entered the 'what's hot' scene last year with the very instagrammable, black coloured ice cream cones, this year its usage has also extended to drinks because of its health factor and to cocktails because of its colour.
Refined, regional Indian food continues to make a welcome mark on the restaurant scene with lesser known dishes from Bengali, Keralite, Telangana, Bihari and Goan cuisine making regular appearances on mainstream menus.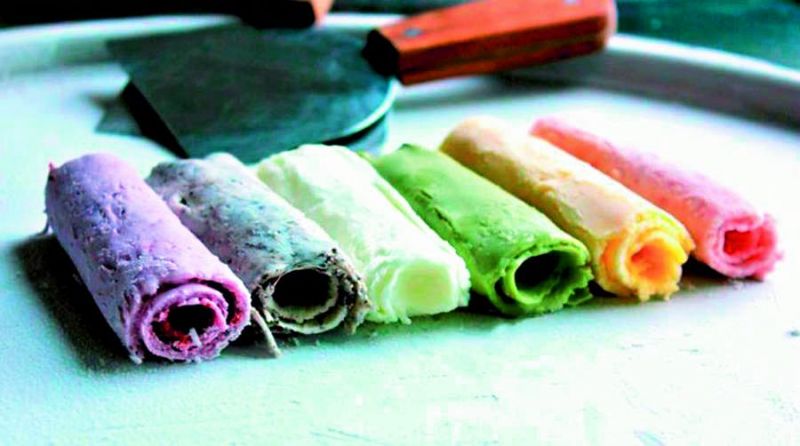 Rolled Ice Cream
Fusion cuisine where Indian food is married with every other cuisine possible is still going strong. This may annoy the food purists but I think it adds an exciting, different dimension to the food scene in India as long as it doesn't cross that fine line into being pretentious! It isn't easy finding the perfect balance of flavours when it comes to pairing contrasting cuisines but so far restaurants are pulling it off to create some astounding, culinary wonders.
Rolled ice cream has been around for a couple of years in the global market and has recently gained popularity in India too. These pretty creations are formed when liquid ice cream is poured onto a cold slate which causes it to freeze and it is then chopped, rolled by hand and served with various, colourful toppings.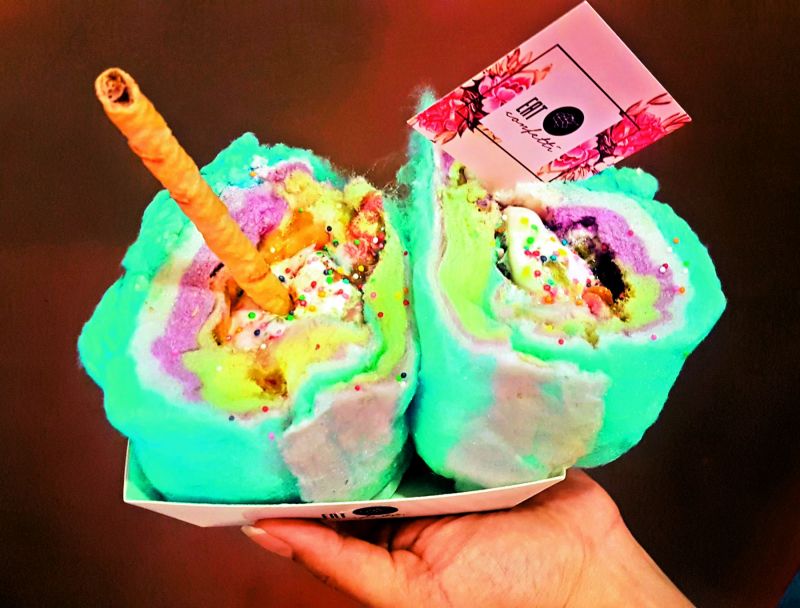 Candy floss burrito at Eat Confetti
Contemporary street food with a twist (or posh street food as I call it!) will continue its trendy run for quite some time making chaat and other classic bites even more popular.
With the acceptance of food trucks in urban areas, now comes the rise of the gourmet food trucks specializing in various niche cuisines ranging from gourmet sandwiches to barbeque items and everything delicious in between! Without the overheads and rentals of a regular restaurant or café to worry about, these trucks can dish out top notch stuff which is a viable option for  professionals on the go and gourmands alike.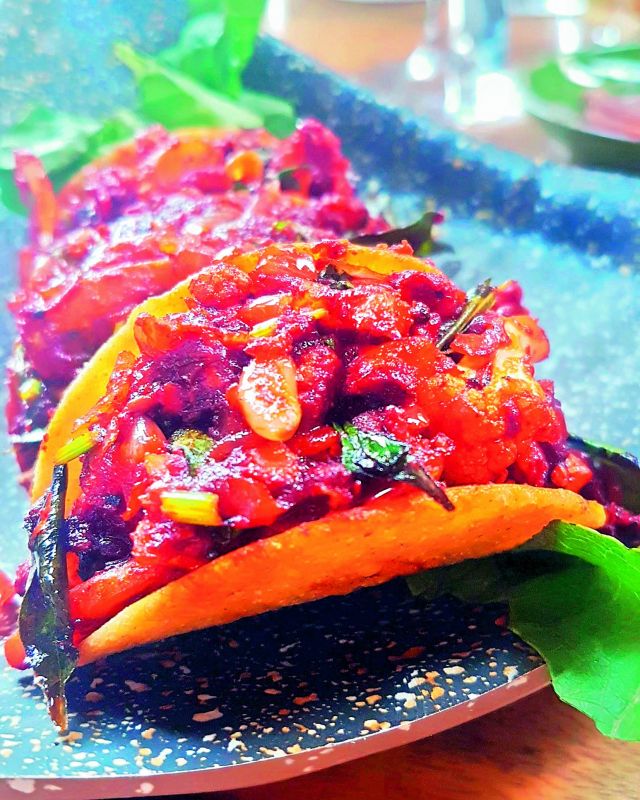 Cauliflower vepudu tacos at Shake Stir Muddle
The 'Unicorn' craze is still alive and kicking. For those of you who don't know about it, unicorn food is anything which is multi-coloured, sparkly and glittery. So you have unicorn lattes, macarons, popsicles and even unicorn grilled cheese sandwiches. It's more style than substance but it appeals to a large segment of the population.
Let's see what new foodie fads pop up during the rest of the year. One thing's for sure, there's never a dull moment when food is around!