NEW DELHI: Two of every five tipplers in the Capital prefer to drink in their car or a park than at a bar, a study conducted by a market research company has found.
According to the survey, 41% liquor consumers in Delhi avoid drinking when their parents are around while 25% say they don't drink when in front of their children.
The study, conducted by IMRB-NFX, was commissioned by National Restaurants Association of India to know the drinking habits of people. The survey recorded the views of 1,270 people – 884 men and 386 women – in the age-group of 25-35 years.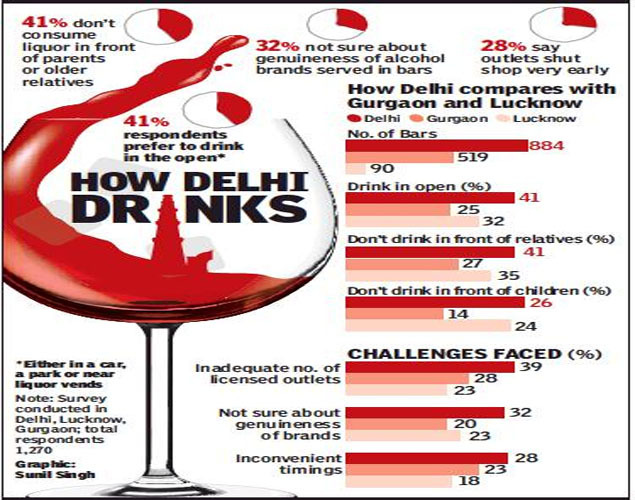 The study says more people in Gurgaon and Lucknow drink at a safer place – either in a bar, at a friend's place or in the relaxed atmosphere of their own homes. While the number of "car-o-baris" — a term for those who drink in
cars and other open places — in Lucknow is 32%, it is even less at 25% in Gurgaon.
Liquor consumers in Delhi say there are inadequate number of safe and reasonably priced drinking outlets in the capital. The capital, with a population of more than 1.8 crore, has only 884 licensed pubs and bars.
In neighbouring Gurgaon, which has an estimated 15 lakh residents, there are 519 such outlets. About 28% of Delhiites blame their habit of drinking in the open to inconvenient bar timings, as most bars start closing around 11pm. Also, 32% say they are not sure about the quality of liquor served in bars.
'Not enough bars to meet city needs'

About 37% of women respondents say most bars are located at unsafe and dingy spots. NRAI president Rahul Singh agrees that the number of bars in Delhi is far less than the city's demand.
"While there is no cap on the number of licences the excise department issues every year, it seems the applicants are not able fulfil all conditions. But lack of adequate number of licensed outlets in Delhi is limiting consumers from exercising their choices.
The Delhi government should have a proactive policy so that more such bars can be opened," Singh said. The excise department officials, however, said consumers pay at least 100-150% more on liquor at bars and restaurants.
"Those who drink on a daily basis cannot afford to pay such huge bills on liquor and food.
They prefer to buy a bottle quickly empty it in their cars or in a corner near the liquor vend and go home. Also, going to a bar requires time and probably not many have that luxury," said a senior Delhi government official, requesting anonymity.
Another official said that unlike Haryana and Uttar Pradesh, Delhi does not allow liquor vends to let consumers bring their own drinks and pay only for the snacks they consume. Though some new outlets have come up in Delhi which charge just 10-20% more on the MRP of the bottle, the number of such outlets is very less, he said.
"In Haryana, they have 'aahataas' next to almost every single liquor vend. In Uttar Pradesh, there are model wine shops that provide space to consumers. But such shops can only be opened where the licencee has a lot of space, which is not possible in a densely populated city like Delhi," the official said.