NEW DELHI: Popular foreign liquor brands are all set to become cheaper in the national capital ahead of Diwali.
With importers reducing the base price on brands such as Chivas Regal, Ballantine's Finest and Absolut Vodka, the maximum retail price calculated by the excise department of Delhi government after levying excise duty and taxes is much lesser compared with the existing rates.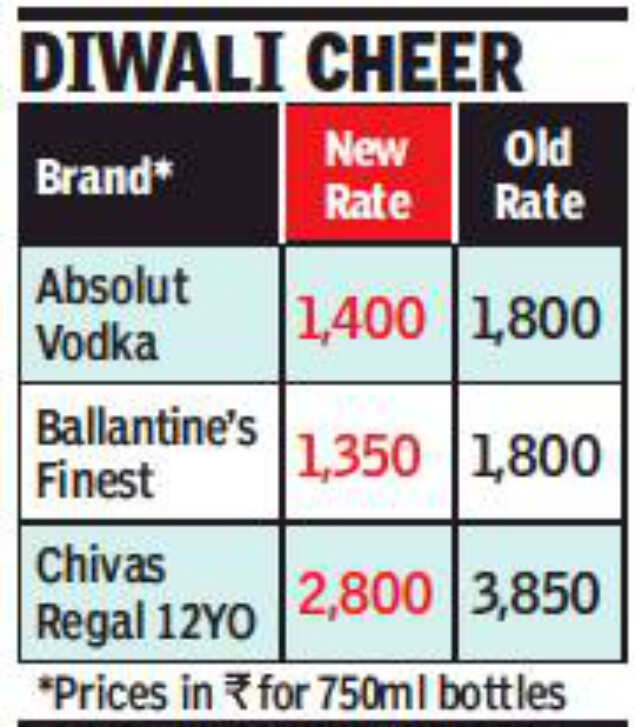 While a 750ml bottle of Absolut Vodka will cost Rs 1,400 instead of the current Rs 1,800, Ballantine's will cost Rs 1,350 instead of Rs 1,800 and Chivas Regal will cost Rs 2,800 instead of Rs 3,850.
The new rates of Johnnie Walker Black Label and Glenfiddich are likely to be decided on Saturday.
Sources said the fresh stock with reduced prices is likely to be available in the market in four or five days. Officials said they expect bars and hotels to pass on the benefit to customers.
The reduction in prices was possible after the introduction of a new clause in Delhi's excise policy that came into effect on August 16, said officials.
Brands cost more in city as base price is higher
The new clause mandates that the principal importers of foreign liquor will have to keep the ex-distillery price of all brands similar in each Indian state, said officials. The clause was included to ensure that the difference in the retail price of these brands in Delhi and its neighbouring states is only marginal and consumers do not buy liquor from outside the national capital.
Due to higher base rate, excise duty and other taxes, the price of liquor, especially foreign brands, in Delhi is much higher as compared to Haryana. For example, Johnnie Walker Black Label, one of the highest selling brands of blended scotch in India, is currently priced at Rs 3,900 for a 750ml bottle but is available for Rs 2,300 in Gurugram. Similarly, Chivas Regal sells for Rs 3,850 in the capital, but only Rs 2,400 in the Millenium City.
An excise department official said that importers have kept the base price of popular brands higher in Delhi. Since the excise duty and other taxes are calculated on base price, the retail price is automatically higher.
"Since importers have to register their brands of liquor every year, we made it mandatory for them to give an affidavit at the time of applying for registration that they will keep the base price in Delhi similar to other Indian states. It took them some time to resolve their pricing issue and calculate the hit in profits they would have to take by lowering the base price, and the registration got delayed. But now some brands have been registered and the remaining are likely to happen on Saturday," said an official.
Due to the delay, some foreign brands were not easily available in the retail market, especially in resto-bars and hotels.
International Spirits and Wines Association of India's executive chairman Amrit Kiran Singh, however, said that if the Delhi government really wants to bring the prices of foreign liquor in the capital on a par with Gurugram, it should reduce the excise duty. "That is the big elephant in the room which the government can't ignore," Singh said.